Chipotle Turkey Taco Bowls
Posted On September 18, 2023
If you have been around my blog for any length of time, you know that Mexican inspired food is a staple around my house. We have so many variations that we make that are all delicious. I love that we can customize them to each person's tastes with toppings, they come together quickly, and can be pretty healthy when made with the right ingredients. The star of the show in this recipe is the chipotle pepper; its unique flavor adds so much depth to this dish. While the chipotle peppers do add a bit more heat, along with smoky flavor; it's very easy to adjust the level of spice by increasing or decreasing the amount of chipotle pepper, seeds, and adobo sauce that you use. This is the way we like it, and my kids all eat it, so it's not super spicy. That being said, I do try to avoid giving my kids any of the pieces of pepper if I can, as they are a bit too spicy for their liking. I love to eat this particular taco bowl topped with plain greek yogurt, which also cools some of the spice, but any of your favorite taco toppings would be delicious, I'm sure. This also makes a great taco filling if you prefer that to a rice bowl; my oldest eats in that way every time I make it.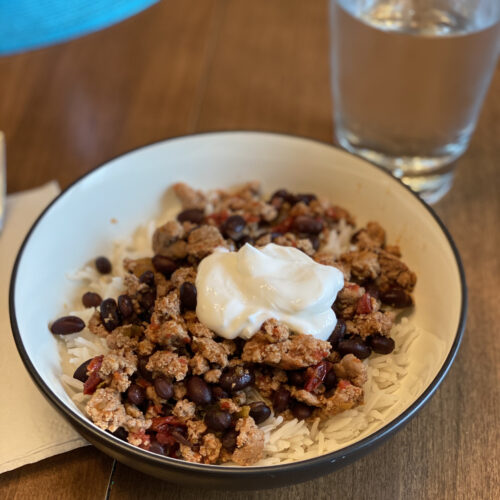 Chipotle Turkey Taco Bowls
Ingredients
1 1/3

lb

ground turkey

1

t.

chili powder

1

t.

cumin

salt and pepper to taste

1

14.5 oz can

black beans

drained and rinsed

1

cup

salsa

1

chipotle pepper in adobo sauce

chopped and seeds removed depending on your desired level of spice

1

t.

adobo sauce

white rice, gucacamole, plain yogurt or sour cream, cheese, etc for serving
Instructions
Heat skillet on medium high heat,

Add turkey, chili powder, and cumin and salt and pepper and brown turkey until cooked through. Add beans, salsa, chipotle pepper and adobo sauce and cook about 5 minutes more until thickened.

Serve over hot white rice with desired taco toppings. I love this with plain Greek yogurt on top for a healthier take on sour cream.
Notes
*You can easily adapt this to your desired level of spiciness by adding more chipotle peppers or adobo sauce.  This is a good amount of heat to please even the kids in our family!
*I love to serve this with my basic white rice recipe.  
Adapted from Pioneer Woman