Jerk Chicken and Pineapple Salsa Bowls
Posted On August 7, 2023
This recipe always feels like summer to me! We eat it all year round because it has become a family favorite, but I always love to make it when the weather gets warmer and we have the option to grill the chicken if we have time. While the jerk rub has a decent bit of spice, the brown sugar adds a great sweetness to it and the pineapple complements it so nicely and helps cool down the spice a bit. This recipe is great for some make ahead prep as well since the salsa and spice rub can be made ahead of time and then it's just a matter of cooking the chicken and making the rice, which is super easy with this Basic Basmati Rice recipe. Most of the time I end up baking this chicken in the oven because it's just what works for our schedule, but when we grill the chicken I feel like it's even a little bit better! I love a recipe like this because we are often unsure if we will have time to grill on a Saturday. It all depends on how the day goes. With a recipe like this, I can plan it for a Saturday, get everything prepped and know that it can easily be made in the house or on the grill based on how the day's activities and the weather turn out.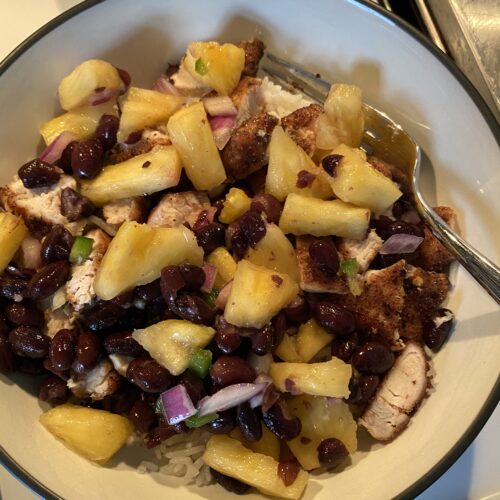 Jerk Chicken and Pineapple Salsa Bowls
Ingredients
1 1/2

lbs

chicken tenderloins
Jerk Chicken Seasoning
2

tsp.

ground all spice

2

T.

brown sugar

1/2

tsp.

cumin

1/4

tsp.

cloves

1/4

tsp.

cinnamon

1

tsp.

salt

1/2

tsp.

black pepper

1/8

tsp.

cayenne pepper

1

dried red chili (I like Thai dragon)

cut into small pieces

1

T.

olive oil
Salsa
2

cups

diced fresh pineapple

1

15 oz can

black beans

rinsed and drained

1/3

cup

diced red onion

juice of one lime

1

jalapeno

seeded and diced

1/4

tsp

salt

Cooked white rice for serving
Instructions
Mix all ingredients for the salsa together. I like to do this ahead and allow it to rest in the fridge for about an hour for the flavors to develop.

Preheat oven to 350 degrees and line a baking sheet with aluminum foil.

Mix all ingredients for the jerk seasoning together in a small bowl.

Rub both sides of the chicken tenderloins with the jerk chicken seasoning and place on a foil lined baking sheet. (This marinade makes a mess when it's cooking, so you don't want to have to clean that pan!)

Bake at 350 for 30 minutes or until chicken is cooked through. Let rest of a few minutes, place on a cutting board and cut into bite sized pieces.

When ready to eat start by placing a layer of the hot cooked rice in the bottom of the bowl, then add chicken, then top with the pineapple and black bean salsa. Enjoy!
Notes
This recipe is also great when you grill the chicken!  Prepare it the same way and then just grill instead of bake. 
Make Ahead Options:  I like that there are a few components of this that can be made ahead.  I always make the salsa early and allow the flavors to develop in the fridge.  I also usually mix up the jerk seasoning blend early in the day (except for the oil).  Then when I'm ready to cook I add the oil, mix together, and rub on the chicken.  
Helping Hands:  When I have little ones around who want to help I usually let them help mix up the salsa and the spices.  However, I usually wait and add the hot peppers to both items at the end after they have finished helping so they don't accidentally touch it, taste it, or get it in their eyes.