Basmati Rice
Posted On March 5, 2022
While this is not a super exciting post, I felt like I had to include it early on because of how much we use it. It's a staple in my cooking, and I can't tell you how many people over the years have asked me how I cook my rice and tell me they have difficulty making rice. So I wanted to share my fool-proof way that is so easy. When I tell people what I do, they often ask multiple questions thinking it must be more complicated than this, but it really is this easy. It's such a hands-off recipe; I love it! Especially when cooking with kids running around, it is so nice to be able to start my rice and know that other than setting a timer and turning the rice off, I won't have to do much else, and it will be ready when the rest of dinner is complete. Probably the most important part of this rice is making it early enough that it can rest for at least 10 minutes after it's finished cooking. This time is critical for water to be absorbed and the rice to become fluffy. If I'm making it go to along with a quick skillet stir fry or taco bowl I usually start the rice before everything else to give it enough time. Give this a try the next time you are making a dish that requires rice! I buy a huge 10 pound bag of Basmati rice at the store, and then I always know I have it on hand whenever we need it. It's a great pantry staple.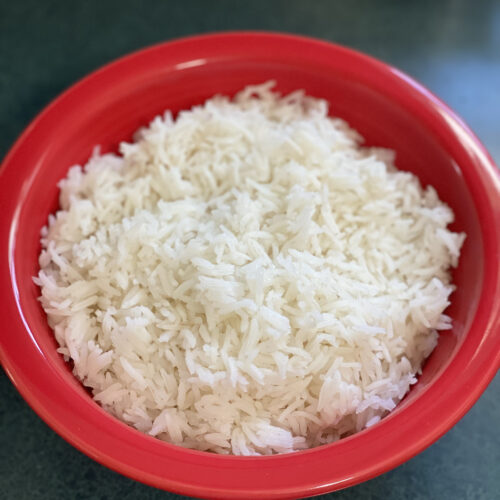 Basmati Rice
Ingredients
1

cup

long grain white basmati rice

1 1/2

cups

water
Instructions
Bring water to a boil in a medium saucepan.

Pour in rice, cover, reduce heat to low and simmer, covered for 10 minutes.

Remove from heat and let stand, covered and untouched for an additional 10 minutes.