Citrus Herb Oven Roasted Chicken Thighs
Posted On September 6, 2023
In the last year or so, my children have come to love "chicken on the bone." They like both chicken thighs and legs; however, I'm not a big fan of chicken legs, so when they want chicken on the bone they get chicken thighs. While I tend to prefer chicken tenderloins or breasts most of the time, we eat A LOT of chicken and turkey, so I find that adding in some chicken thighs, both boneless and bone in, makes for a nice change. It's amazing how even with all the cooking I do and recipes I have, I can still feel bored sometimes and need a change. This is a recipe I sometimes forget about, and honestly, I'm not sure why it's not part of our regular meal rotation it is so good and so simple! I'm really going to make an effort to make it more often. Perhaps sharing it with all of you will help that come to be!
This recipe is a traditional roasted chicken in a lot of ways; however, the orange and lemon juices really brighten up the palate. When you combine that bright citrus flavor with all the herbs, this recipe is bursting with flavors. It's also so easy to prepare! I love to mix up the olive oil mixture and pour it over the chicken an hour or two before dinner. Letting it sit in the fridge for that little bit of time allows for the flavors to develop. It also makes dinner time a breeze. I have the orange and lemon slices ready to go, so I just pull the chicken out of the fridge, place the orange and lemon slices on top, and pop it in the oven. Then I just have to worry about sides, and this recipe is so versatile you can do almost anything! Steamed veggies, roasted potatoes, mashed potatoes, sourdough bread or rolls, rice, or just about any other side dish would go great with this! It also looks so pretty you could definitely make this for company and not feel like you have to work all day in the kitchen before guests come over.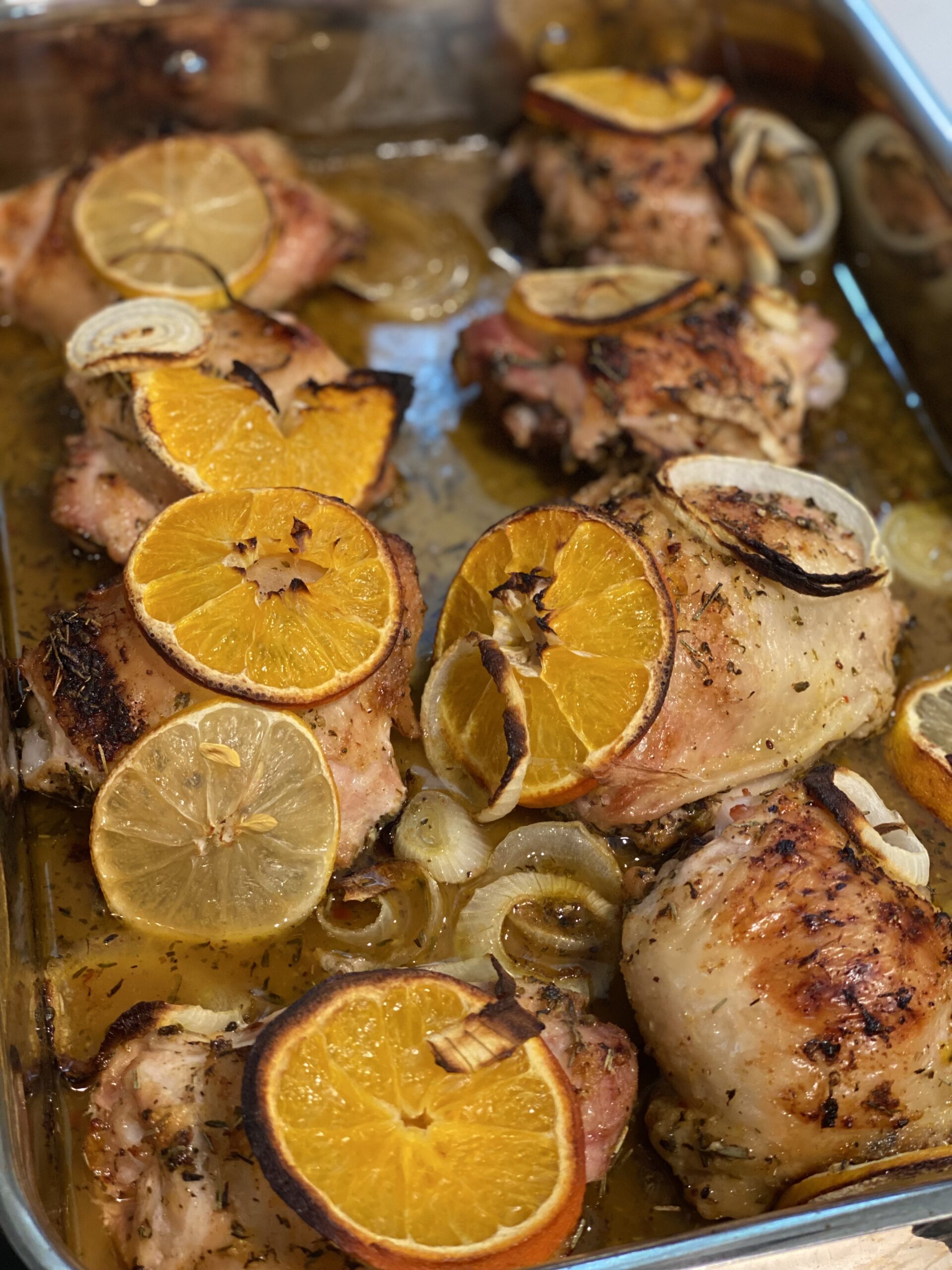 Citrus Herb Oven Roasted Chicken Thighs
Ingredients
8

bone in, skin on, chicken thighs

trimmed of excess skin (leave some on, just not a ton)

1/4

cup

olive oil

4

cloves

garlic

minced

2

T.

granulated sugar

2

lemons, one juiced and one sliced

2

oranges, one juiced and one sliced

1/2

T.

dried oregano

1/2

T.

dried basil

1

tsp.

dried rosemary

1

tsp.

dried thyme

1

tsp.

onion powder

1/2

tsp.

paprika

1/4

tsp.

crushed red pepper flakes

1

small

yellow onion, thinly sliced

salt and pepper to taste
Instructions
Preheat oven to 400 degrees.

In a glass measuring cup, whisk together the olive oil, garlic, sugar, lemon juice, orange juice, oregano, basil, onion powder, thyme, rosemary, paprika, crushed red pepper flakes, and salt and pepper.

Place chicken in a small roasting pan or other 13×9 pan. Pour olive oil mixture all over the chicken. Make sure all pieces are evenly coated. If you have time, you can do this a bit early and let rest and marinate for an hour or so in the fridge).

Arrange lemon, orange, and onion slices on top of the chicken.

Bake uncovered for 1 hour or until chicken is cooked through.
Notes
Make Ahead Options: I like to mix up the olive oil mixture and get that on the chicken around mid day so it can rest in the fridge for an hour or so before it's time to bake.  I also have the lemon, orange, and onion sliced. This way, when it's time to bake it, I simply lay the slices on top and put the whole pan in the oven
What to serve with it: This is so versatile!  You can serve this with a nice vegetable.  We've eaten it with my air roasted corn on the cob. This is also great with roasted or mashed potatoes. These roasted root vegetables would be great! It would also be delicious with a nice roll or crusty sourdough bread.  You have tons of options here depending on the time of year, how hungry everyone is, and your family's tastes.  
Helping Hands: My kids love any chance to help, so I usually let them help add ingredients and mix up the olive oil mixture. It's a simple process but they feel so helpful being a part of making dinner.  Plus when they help I can usually get it done more easily during the day than if I'm trying to keep them entertained with something else while I'm cooking.