Roasted Root Vegetables
Posted On March 9, 2022
When I meal plan, I tend to spend most of my energy on the main dish. It's what guides my plan, but it's also what I usually devote the most time and energy to when cooking. Most often, my sides are a simple steamed or roasted veggie (just one veggie on a sheet pan with some olive oil and salt and pepper, either in my oven or air fryer). It's just easier that way. For the most part, my style of cooking seems to go well with that, so it works for me. But I do like having some good side dishes that I can make when I feel like a certain meal just needs a little bit more than a simple vegetable. Plus, as my boys are growing and getting hungrier it's nice to have an additional item to put on the plate! These Roasted Root Vegetables are perfect! They are warm and delicious and filling, with a combination of sweet and white potatoes and a handful of other vegetables. While I do call the recipe root vegetables, I like to include red bell peppers as well. They add a nice little extra something for me. This recipe is definitely flexible based on what root vegetables you have on hand and enjoy. I have shared our favorite combination; it has a nice variety and something each person in our family enjoys.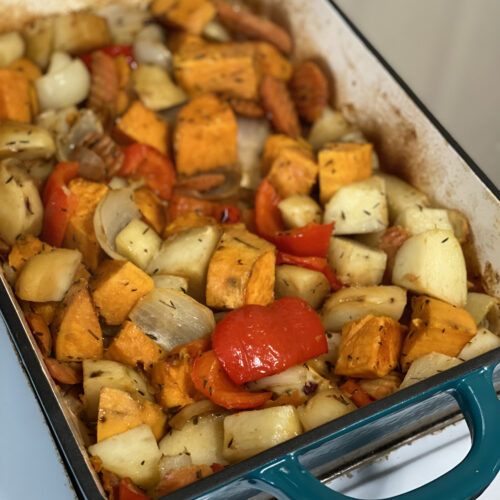 Roasted Root Vegetables
Ingredients
1

large

yam

peeled and cut into 1 inch cubes

3

small

red potatoes

peeled and cut into 1 inch cubes

2

carrots

peeled and cut into 1 inch pieces

1

yellow onion

peeled and quartered

1

red bell pepper

cut into 2 inch pieces

5

cloves

garlic

sliced

1

tsp

dried thyme

(or 1 Tbsp. fresh)

1

cup

chicken broth

1-2

T

olive oil
Instructions
Preheat oven to 425 degrees. Spray a 13×9 pan with cooking spray.

Add all the vegetables to the pan.

Sprinkle with thyme and drizzle with olive oil and toss to coat. Make sure all the vegetables are lightly coated in olive oil. Roast for 30 minutes.

Remove from oven. Pour in the chicken broth and toss vegetables to coat. Return to oven and roast for another 20-30 minutes or until all the vegetables can easily be pierced with a fork.
Notes
What to serve with it:  This recipe is a great accompaniment to my Honey Mustard Chicken.  I think many other baked or roasted chicken recipes would work well with it also as long as the flavors complement.  I think it would also be great with a pork or turkey tenderloin.