Air Roasted Corn on the Cob
Posted On July 31, 2023
My favorite way to eat corn on the cob in the summer is grilled. We make it all the time at the beach and with my parents and it's great. However, I find that most of the time when we are having it at home it doesn't really work to grill it. Life is just a little too hectic. In addition, for some reason, I really don't have the patience to boil it in the house. It seems to take forever to boil the water, and then it never comes out exactly how I want it. But two of my kids love corn on the cob, so this year I was determined to find a way to make it that was easy and convenient for me and that we also really enjoyed. This has been my go-to method of making corn this summer! I love it because the prep is easy, it's relatively hands off once it's cooking, and if you leave it wrapped in the foil it stays warm for a while if other parts of dinner are still being prepared.
I have not tried this in a conventional oven, but I would imagine it might work either exactly the same way or with slight adaptations. I love making it on the air roast setting of my air fryer because it heats up really quickly and doesn't heat the house up in the same way that the oven does. I have the style of air fryer that looks and functions like a toaster oven as well, so it's super easy to fit four ears in there on the baking sheet it came with.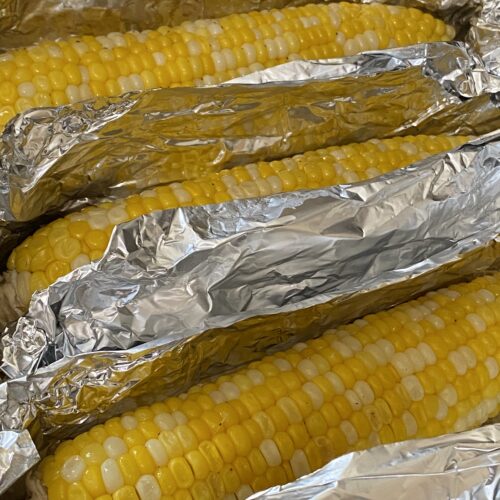 Air Roasted Corn on the Cob
Ingredients
4

ears

fresh corn on the cob

shucked and cleaned

1

T.

butter

slightly softened

salt and pepper to taste
Instructions
Preheat air roaster to 400 degrees. (If yours is like mine and heats super quickly you may want to wait for this step)

Place each ear of corn on a piece of tin foil large enough to wrap the entire cob of corn.

Rub each ear of corn with butter and sprinkle with salt and pepper to taste.

Wrap up each ear of corn in foil and place on the baking sheet that fits in the air fryer/roaster.

They will stay warm for a while in the foil. I usually open them up a few minutes before we are ready to eat so they can cool off a bit.
Notes
The air fryer that I have is the kind that looks like a toaster oven and has an air roast setting.  I have never done this in a conventional oven, but I'd imagine you could easily adapt it, or it might work just as is.  I love air roasting it because it is so quick and it doesn't heat up the house in quite the same way that the oven does.  It also allows me to make this at the same time as something else that it is in the oven at a different temperature.