Our Favorite Cornbread
Posted On February 7, 2022
I have loved cornbread for as long as I can remember! I feel like it made my night when we would have it as part of dinner when I was a kid, and I was thrilled whenever it was served at a restaurant. My kids are the same way. I get requests for it pretty regularly. That's why I'm so excited to share this recipe with you. It took me a while to finally get my cornbread recipe just right. I wanted it to have the right amount of sweetness and moisture for my family's taste. It also had to be relatively simple because I knew if it was too complicated I wouldn't end up making it very often. This one finally meets all of our needs. I know cornbread taste is very personal and people have many different opinions about what it should be like. I hope you enjoy this one as much as we do!
You'll notice I have a cooking temperature at the end of the recipe. This is a relatively new thing for me and I love it! I have always used a thermometer for checking the internal temperature when cooking meat; however, until recently I had just used the toothpick test for baked goods. If it came out clean, it was done. But recently I had been finding that wasn't super reliable and have come to find that checking the temperature for bread works great as well! I first tried it with sourdough bread and when it worked so well I decided to use it for other baked goods too. This bread used to come out a bit underdone for me sometimes if I wasn't careful, and now, using the thermometer makes it so much easier to tell when it's ready!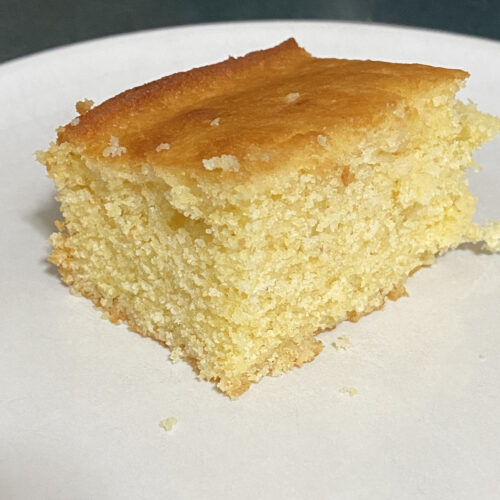 Cornbread
Ingredients
1

cup

yellow cornmeal

1

cup

whole milk

1

cup

flour

2/3

cup

sugar

1/2

tsp.

salt

2

tsp.

baking powder

1

large egg

1/3

cup

butter

melted and cooled
Instructions
Preheat oven to 400 degrees. Grease an 8×8 baking dish.

Mix cornmeal in a large bowl with the whole milk and let it sit for about 10 minutes.

Melt butter. I typically do this in the microwave for about 1 minute. (If you do this when you mix the milk and cornmeal it allows it time to cool)

Add remaining ingredients to the milk and cornmeal mixture

Pour into prepared baking pan and bake for 30 minutes or until cooked through and internal temperature at the center is 190 degrees.