Cucumber Salad
Posted On August 13, 2022
I think I could make this recipe in my sleep! It is such a summer staple from my childhood that is super easy and a great way to use up garden cucumbers when they suddenly start flooding the kitchen. It's a light and refreshing side dish that goes with almost anything and usually appeals to most people.
When I went to write up this recipe, it was challenging because I don't think I have ever measured when I make this. So much of it depends on the size of the cucumber, for one! This year, when I bought our normal cucumber plant, we somehow got a variety of an English cucumber, and they are growing over a foot long! They are delicious, but they are huge and such a surprise! Obviously one of those needs slightly different quantities of oil and vinegar and spices than a regular cucumber does. The great thing is that this recipe is super forgiving, and you can taste as you go!
I usually make this a little bit ahead of when we are going to eat it, about an hour or so, to let the flavors develop, and I think it tastes even a little better. But I've also made it right before dinner and it's still delicious!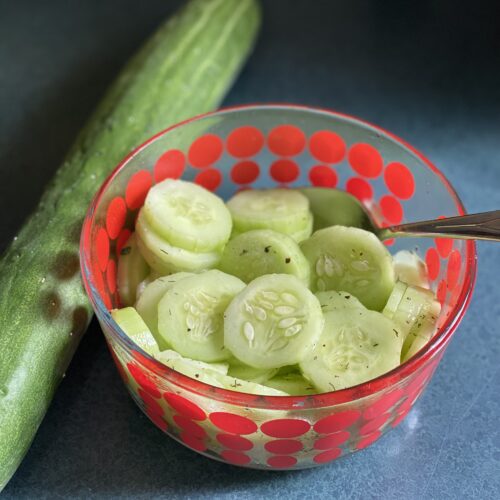 Cucumber Salad
Ingredients
1

cucumber

peeled and thinly sliced

1-2

T.

olive oil

1-2

T.

white wine vinegar

salt and pepper to taste

1

tsp

fresh dill

(or 1/4 tsp dried)

pinch

granulated sugar

(optional)
Instructions
Add peeled and sliced cucumbers to a bowl.

Drizzle with olive oil and white wine vinegar and toss.

sprinkle with salt, pepper and dill. Toss again.

At this point, I usually taste the salad and adjust seasonings as necessary. There should be enough oil and vinegar to lightly coat the cucumbers, and seasoning should be to your liking. Sometimes there can be a touch of bitterness, which is when I add a small pinch of sugar. It's barely noticeable but it cuts the bitterness out of the salad.
Notes
This recipe is very flexible and I don't think I ever measure the ingredients.  It all depends on the size of the cucumber and how vinegary you like the salad to taste. I usually just mix it up in a bowl, taste and then adjust the seasonings as necessary.  It's super easy and also super forgiving.  I have also often make this with chopped scallions instead of dill and that is great too!