Parmesan Crusted Flounder
Posted On April 16, 2022
I've been on a quest to create fish recipes that my kids will eat and enjoy! I feel like when my kids were smaller they actually ate most fish without an issue, and now as they are getting older and developing more of their own opinions, its becoming harder and harder to get them to eat fish. We try to eat either a vegetarian or seafood meal once a week, so it would really be nice to have a good collection of fish recipes that we all enjoy. I'm thankful that we have a few to start with, and hopefully I'll develop more that I can share with you as we continue on this journey.
I made this the other night and it was a hit! I do find that getting good quality fish makes a huge difference. We have a great seafood market nearby that we just love and he has so many great fish options all the time. I've started to go there regularly to get a few items to stock our freezer, and it's been so nice to have it on hand! We regularly go there for our holiday meals as well as the quality just can't be beat!
This flounder came out so good! The filets were small, and when I bought them I only bought one to split between our two boys since fish has been such an issue for them to eat. Of course, this time they both ate it all and wanted more! I guess I know for next time! The crust for this fish is packed with flavor between the spices and parmesan, and it complements the flounder really nicely! We loved it with a simple rice pilaf and roasted asparagus. Of course my kids wanted ketchup, but that is a compromise I am willing to make!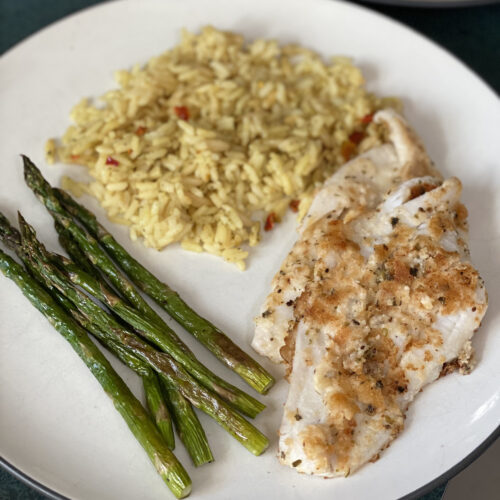 Parmesan Crusted Flounder
Ingredients
6

small

flounder fillets

10

Ritz crackers

crushed

1

t.

dried basil

1

t.

dried oregano

1

t.

garlic powder

1/4

cup

grated parmesan

salt and pepper to taste

juice of 1 lemon

(about 3 T)

1

T.

olive oil

1

T.

butter
Instructions
Combine crackers, parmesan, and spices in shallow bowl or on a small plate that will allow you to dip the flounder fillets easily.

In another shallow bowl or small plate squeeze the lemon juice.

Sprinkle flounder with salt and pepper. Dip both sides in lemon juice and then in the cracker mixture.

Melt butter and heat olive oil in a large skillet over medium heat. Cook the fish in butter and oil mixture for 3-4 minutes per side until cooked through and fish flakes easily with a fork. (My flounder fillets tend to be very small and thin so they cook quickly. If you are working with larger/thicker fillets or a different kind of white fish this will take longer).

If cooking the fish in multiple batches based on the size of your skillet, when they are finished place them on a plate and cover them with foil while you finish cooking the rest.