Homemade Pizza
Posted On May 29, 2023
I think it's time for a family pizza night! Do you like homemade pizza? We love it! And we also love pizzeria pizza. It almost feels like two different things to me. I don't think I've ever been able to have my pizza come out like our favorite pizza place, but we really enjoy making it ourselves. It seems healthier and has a fresh homemade feel. We can also add whatever we want to it and make it any shape we want. We almost always make heart pizza around Valentine's Day. It's become a little tradition with the kids. We have also made designs with our toppings, written out the year on our New Year's Eve pizza, and many other things.
I think that is one of the other reasons I enjoy homemade pizza so much: it is so fun to make with the kids. They can help with the dough and assembling all the ingredients. And they love it because they get to make pizza!  If you are looking to introduce kids to helping in the kitchen this is a great recipe to start with. 
The other great thing about this recipe is it's super quick. It has a short rise/rest time so you can have pizza on the table in no time. Particularly good for hungry and impatient children (or adults)!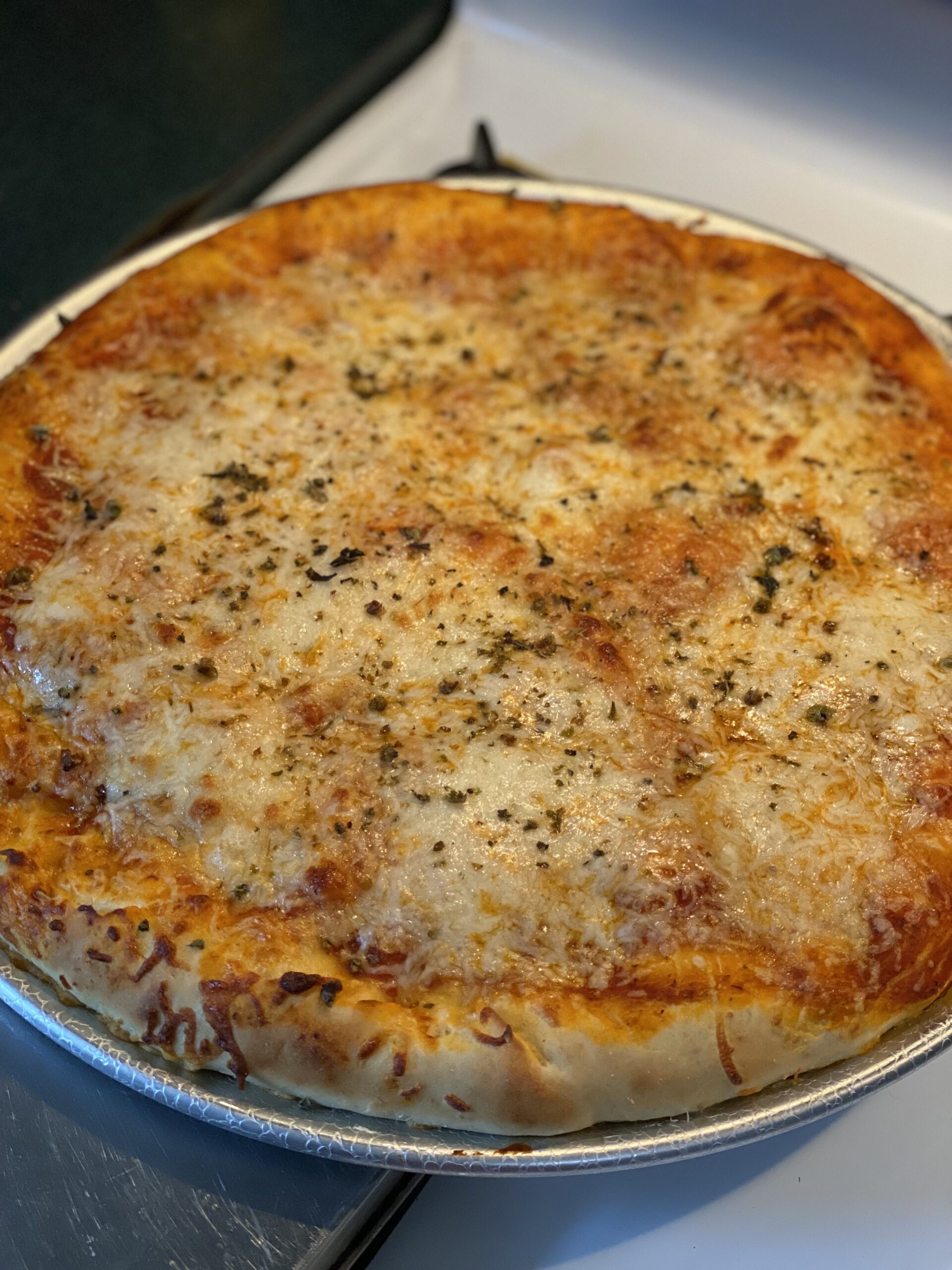 Homemade Pizza
Ingredients
3

cups

flour

1

T

honey

1

T

olive oil

1

cup

warm water

1

T

active dry yeast or instant yeast

1

tsp.

salt

cornmeal for dusting the pan

pizza sauce, mozzarella cheese, dried oregano and basil, crushed red pepper flakes, and toppings of choice
Instructions
Preheat oven to 475 degrees

If you are using active dry yeast, dissolve yeast in the warm water and honey in the bowl of a stand mixer and let it rest a few minutes until you see it bloom. If using instant yeast, you can mix it right in with everything else in the next step.

Mix warm water, honey, yeast, oil, and salt together in the bowl of a stand mixer fitted with the dough hook.  Add flour gradually and knead with the dough hook for a bit in between.  I usually add a cup at a time.  Once all the flour is added, knead 2-3 minutes until the texture is smooth and not sticky. If kneading by hand it will take longer.

Remove dough from stand mixer, knead for a moment on a flour coated surface and then form into a ball. Cover with a tea towel and let sit for 10 minutes.  

Lightly dust a pizza pan with cornmeal.

Stretch out pizza dough to fit the pizza pan

Add sauce, cheese and toppings.  I like to add a bit of crushed red pepper to the sauce if everyone likes it spicy, but with the kids I usually don't.  After adding sauce, cheese, and toppings I like to sprinkle a bit of dried oregano and basil over top before baking.  

Bake for about 12 minutes, until crust is golden and cheese is melted. 

Serve. We often add a sprinkle of parmesan, garlic powder and red pepper flakes to our individual slices.