Multi Bean Salad
Posted On June 11, 2022
I can't seem to resist posting recipes that are great for get togethers and Barbecues right now. Apparently, that is what is on my mind. I love summer and being able to get together with friends and family, hang out outside, and grill some great food. This is one of my go-to side dishes. It's so easy and can be made the night before. (It actually should be so the flavors have time to develop). I love that because I can be ready with the food before I am getting the house ready (or getting the family ready to go to someone else's house). This is also a great one because it's vinegar based, so I don't get as nervous about it being served outside as I do side dishes made with mayonnaise. This dish makes a regular appearance at most of our family get togethers, and I have made it for countless parties!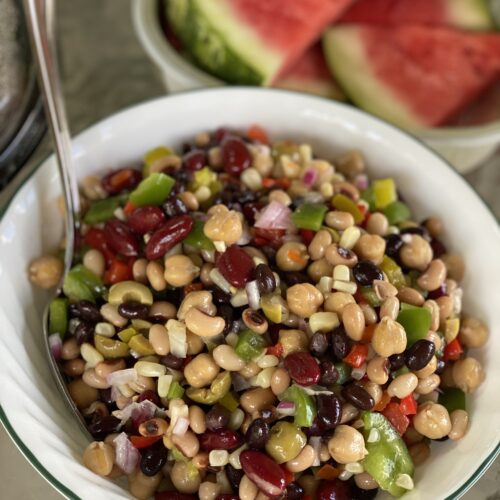 Multi Bean Salad
Ingredients
Salad ingredients
1

red onion

chopped

1

red bell pepper

chopped

15 oz

can

Black-eyed peas

drained and rinsed

15 oz

can

black beans

drained and rinsed

15 oz

can

kidney beans

drained and rinsed

15 oz

can

Cannellini beans or northern white beans

drained and rinsed

15 oz

can

chickpeas

drained and rinsed

1/4

cup

pickled green jalapeño peppers

finely chopped

1/2

cup

green olives with pimentos

chopped

15 oz

can

white corn
Sauce Ingredients
1/2

cup

apple cider vinegar

1/2

cup

granulated sugar

1/2

cup

vegetable or canola oil
Instructions
Prepare all of the salad ingredients and add all of them except the corn to a large bowl and mix well. Then add the corn to the top and set aside. (If you add the corn in the beginning it can darken in color from all the other beans. It will still taste fine, I just think it looks prettier to add it at the end.)

In a small saucepan bring the vinegar, sugar and oil to a boil and stir together until combined and sugar is completely dissolved.

Pour overtop of the bean mixture and gently mix.

Cover and chill overnight to allow for the flavors to develop.
Notes
Helping Hands:  The first part of this recipe is great for kids to help with.  They can help rinse the beans in a strainer and then can help mix them all together in a large bowl.  I usually handle the chopping and then the pouring of the hot sauce.  
*The spice level of this recipe is very customizable.  A lot depends on the spiciness of the jalapeños you buy, and it varies a lot by brand so definitely taste them and see.  I have also added fresh garden jalapeño in addition when we have wanted some extra heat. At times my family has made half of this with no jalapeño and then added it to the rest so people had options. There is lots of flexibility!