Chicken Lettuce Wrap Salad
Posted On January 31, 2023
I love the idea of lettuce wraps; however, any time I served them to my family they were a mess and no one seemed that into them. They would fall apart when the kids tried to eat them and we all needed 5 napkins. This recipe was born out of this challenge. We now serve our lettuce wrap filling over a bed of chopped romaine lettuce and eat it with forks like a salad. All the goodness of lettuce wraps without all the mess. By all means, you can use this recipe and wrap it up in large pieces of lettuce and it will be delicious too, it just has never worked for us.
The other reason I love this meal is that it comes together super quickly. It has become a staple in our house when I know I won't have much time to cook dinner. You'll notice I don't have any make ahead notes for this one and there's a reason for that- dinner is on the table in 30 minutes without any prep ahead of time. If you are chopping your own lettuce you could certainly do that ahead of time, but that's about it. We often use the bagged romaine that is already chopped, but if I need to chop it myself I usually have enough time while the food is simmering to chop it right before we eat.
I also must add this is one my kids' favorite meals! I wouldn't have necessarily expected that to be the case, but they gobble it up every time. And it's one of the few times they don't mind the lettuce (at least most of the time).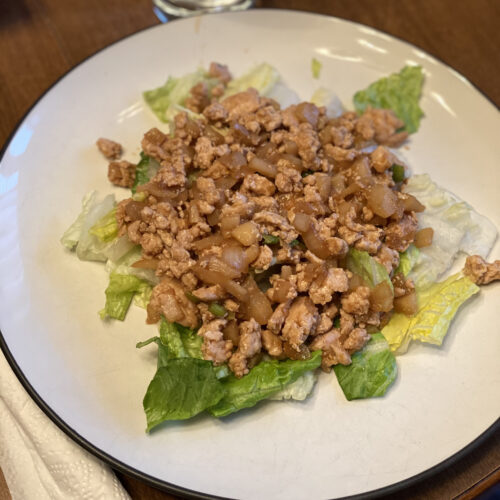 Chicken Lettuce Wrap Salad
Ingredients
1

T

olive oil or peanut oil

1

lb

ground chicken

2

cloves

garlic

minced

1

yellow onion

diced

1/4

cup

hoisin sauce

2

T.

soy sauce

1

T.

rice vinegar

1

T.

freshly grated ginger

(or a sprinkle of dried ground ginger)

1

tsp.

sriracha

1

8 oz can

water chestnuts

drained and chopped

2

green onion

sliced (optional)

salt and pepper to taste

chopped romaine lettuce for serving
Instructions
Heat olive oil in a skillet over medium heat. Brown chicken (about 3-4 minutes). 

Stir in onion, garlic, hoisin sauce, rice wine vinegar, ginger and sriracha and cook until onion is tender. Stir in water chestnuts and cook until water chestnuts are tender (1-2 minutes). Season with salt and pepper and top with green onions.

Spoon mixture over a bed of chopped romaine lettuce.
Notes
Note: I freeze my ginger by cutting in into 1 inch pieces and tossing them into a freezer Ziploc. I never peel it.  When a recipe calls for fresh ginger I grate the unpeeled frozen ginger on a micro plane right into the recipe. It works great and saves me from wasting ginger when I can't use the amount that I buy before it goes bad.  It also means I almost always have fresh ginger on hand when I need it.