Peanut Butter Cup Cookies
Posted On June 4, 2022
I recently discovered that we had acquired a lot of extra candy in our house. Somehow holiday candy seems to pile up, and since I try to limit how much is eaten at a time, it can hang around for a while. Well, I felt like it was time to do something about it and find some other ways to use it so it wasn't just sitting around. I decided to experiment and try to use some of it in some baking. The result was so delicious! This is basically a chocolate chip cookie, but instead of chocolate chips I used chopped up miniature peanut butter cups. They are so good!
When I wanted to make these, I was trying to think of an event or reason to make them so that I had some to share with friends. I had a get-together planned with some dear mom friends a few weeks ago, and I thought it would be the perfect time to make them. Who doesn't enjoys cookies? Well everyone just loved them and wanted to take some home for their spouses and kids. Nothing makes me happier than when I see how much people enjoy something I make. It gives me such joy! So I knew I had to share these on the blog soon so you can try them too. They are the best, and you should make them as soon as you can! (Even my dad who is not a huge fan of peanut butter in his baked goods couldn't stop eating them!).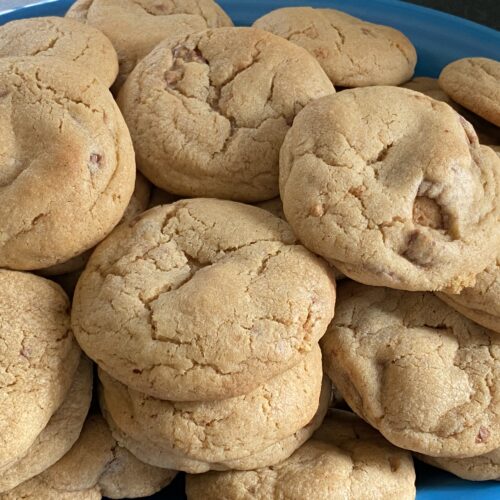 Peanut Butter Cup Cookies
Ingredients
3

cups

all purpose flour

1

tsp.

baking soda

1

tsp.

baking powder

1

tsp.

sea salt

1

cup

salted butter

room temperature

1 1/2

cups

brown sugar

packed

1/2

cup

granulated sugar

2

eggs

1

T.

vanilla extract

2

cups

chopped Reese's miniature peanut butter cups

(I cut each one into four pieces; this is a little less an an 11 oz bag, I had a few left over after I chopped and measured them)
Instructions
Preheat the oven to 350 degrees. Line cookie sheets with parchment paper.

In a medium bowl whisk together the flour, baking soda, baking powder, and salt.

In a stand mixer, beat the butter and both sugars together until creamy. Add eggs, one at a time, and vanilla, and beat until combined.

Add the dry ingredients and mix on low until fully combined. Try not to overmix.

Stir in the chopped peanut butter cups.

Using a cookie scoop or spoon, roll the dough into balls (using about 2 tablespoons of dough per cookie) and set them about 2 inches apart on the cookie sheet.

Bake for 10-12 minutes until lightly golden. Allow to cool on the cookie sheet for about 5 minutes and then transfer them to a cooling rack. If you try to transfer too soon they will fall apart.