Chicken and Black Bean Burrito Bowls
Posted On March 26, 2022
My children would live on tacos and guacamole if I let them. (Maybe that with some pizza interspersed). While I think it's a bit humorous how much they like tacos, I really don't mind. They are relatively healthy and easy. There are also lots of variations that can be made, and so far they like almost all of them. So I'm fairly certain you will come to find a number of taco recipes on this blog over time. While this one is technically not a taco, I serve it to my kids like it is one. Sometimes my husband and I like to change it up and have burrito bowls instead of tacos, and this recipe is one of our favorites. After a few faces from one of my kids, I started offering the filling wrapped in a tortilla to my kids if they prefer that to the bowl with rice. Depends on the kid and depends on the day (as it often does with young kids). However, since we usually have tortillas on hand, it's an easy option to give the kids that allows them to have some freedom to choose when it comes to dinner and doesn't make any more work for me or sacrifice any nutritional value.
I love this chicken and black bean burrito bowl because of how easily it comes together and the flavor is great. We personally love it over cilantro lime rice as that adds some additional flavor elements to it. (I think the rice actually takes longer than the chicken and black beans for this recipe). Then we just add our favorite taco toppings: salsa, cheese, hot sauce, guacamole, etc. I have also made this into actual burritos, putting the rice as well as the filling into a large tortilla with all the toppings and rolling it up like a burrito. That's great too! So there are many options depending on how you prefer to eat your Mexican food.
I hope you enjoy these as much as we do!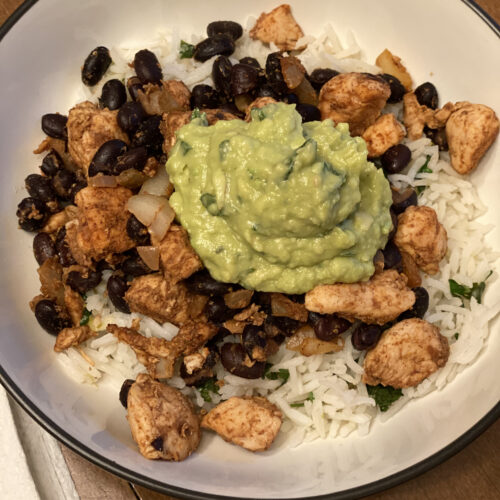 Chicken and Black Bean Burrito Bowls
Ingredients
1

lb

boneless chicken breasts, cut into small pieces

1

15 oz can

black beans

drained and rinsed

1/2

medium

yellow onion

chopped

1

tsp

chili powder

1

tsp

cumin

Hot cooked rice (I love to use my cilantro lime rice), Mexican cheese blend, salsa, guacamole, hot sauce, etc for serving
Instructions
Heat a bit of oil in a large skillet over medium heat. Add diced onions and sauté a few minutes until they start to soften.

Add chicken, cumin and chili powder and cook until chicken is cooked through.

Add black beans a cook another minute, stirring to combine, until the beans are warmed through.

Serve over hot cilantro lime rice (or plain rice) and top with your favorite burrito/taco toppings.
Notes
What to serve with it: We love this recipe on top of Cilantro Lime Rice and topped with our homemade guacamole.
These could also be served in large tortillas as burritos. I also sometimes put the filling into a tortilla for my son and top it with cheese and guacamole.  He much prefers tacos and doesn't really care for rice.  My other son eats it like a burrito bowl.