Spaghetti Spinach Pie
Posted On February 27, 2023
This recipe is definitely in my son's top ten favorite dinners! Honestly, I never would have expected this to be such a kid friendly dish, but both of my boys gobble it up every time I make it! While it certainly has plenty of cheese, which they love, it also has spinach, and I love that they are eating that as well!
I grew up eating this recipe and I always liked it. However, for some reason, every time I made it I just couldn't get it right. The directions were fairly simple and open to a lot of interpretation, and usually for me, that doesn't go that well. While I like to be creative, I like my recipes to be precise so that I know it will come out correctly every time. (It might have something to do with the fact that I have little ones running around while I'm trying to cook). Thankfully, after many times of making this recipe and a lot of note taking and adjustments, I was able to get it to come out just right every time. Now it is a staple in our meal rotation and a go-to recipe. My son loves to make this with me as well, so I try to plan it on a day when I know we will have time to work on it together. It is always such a sweet time when we get to cook together!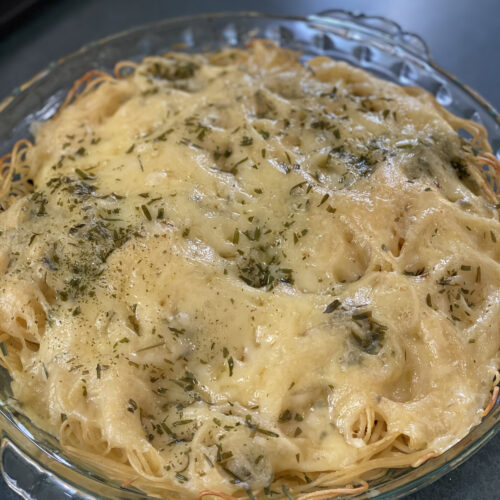 Spaghetti Spinach Pie
Ingredients
10 oz

package

frozen spinach

2-3

cloves

garlic

minced

1

T.

tarragon

3/4

lb

sliced swiss cheese

(I prefer an imported one like Boar's Head with a bit more flavor)

1/8

cup

grated parmesan cheese

juice of 1 lemon

8

oz

raw spaghetti

1/4

olive oil

(Approximately, I never measure this, I just drizzle across at each stage of layering)

salt and pepper to taste
Instructions
Cook the spinach according to package directions (6-8 mins in microwave).  Cool and drain, squeezing out excess water. Season with salt and pepper.

Boil pasta according to package directions in salted water.

In the bottom of a pie plate drizzle some olive oil, next add all of the spinach, spread out into a thin layer. Add salt and fresh black pepper, garlic (I like to grate mine on microplane so can be evenly distributed) and the juice of half of the lemon.

Place half of the spaghetti on top. Drizzle with olive oil. Layer half of the swiss cheese, breaking it into strips, and half of the tarragon.

Add the second half of spaghetti, some more olive oil, juice of the second half of the lemon, parmesean cheese, second half of swiss, and second half of tarragon.

Bake uncovered at 400 degrees for 20 minutes.

Allow to rest for 5 minutes to allow for easier slicing into wedges.
Notes
Make Ahead Options:  I make this ahead all the time!  I assemble the entire pie then simply cover it with foil and put it in the fridge.  I take it out for about 15 minutes to come to room temperature and then bake. Helping Hands: My son loves to help make this recipe! (And he loves to eat it!).  I try to cook the spinach and the pasta a bit ahead of when we are going to assemble it so it is cool to the touch for him to help.  He helps to assemble the entire pie. Since there is nothing raw and nothing super hot it is a great recipe for kids to help with! What to serve with it:  We usually eat this with a simple steamed veggie or a salad.