Taco Seasoning
Posted On September 3, 2022
I don't know about you all, but with the start of school and fall schedules starting up, everything feels super hectic. I love the routine of it in some ways, following a wonderful, but ever-changing summer schedule; however, it always takes me a while to get used to the pace of the school year again. This is when I like to fall back on some quick staple recipes and make ahead meals that come together quickly. I'll get used to the new schedule soon enough, and it'll feel normal and all of that, but for now it's nice to have some good easy options for dinner.
This is one of those staple recipes that I always make and have on hand. Many years ago I started making my own taco seasoning, and I have never looked back! It is so easy to make and I know exactly what is in it. There are not many spice blends that I make up ahead of time, I usually just mix up the spices I need for a given recipe when I'm planning to make it. But I always have a jar of this made up and in the pantry. I use it for so many different things, and it's so nice to have it ready to go. I use it in the same way I would use a taco seasoning packet (3 Tablespoons is equivalent to one packet) and simmer it with meat for a basic taco filling. I also use it for a great salsa chicken recipe that has become one of those recipes that has saved dinner on many an occasion since it's made with all ingredients that I always have on hand and it's quick and easy. I'll be sharing the one soon as well.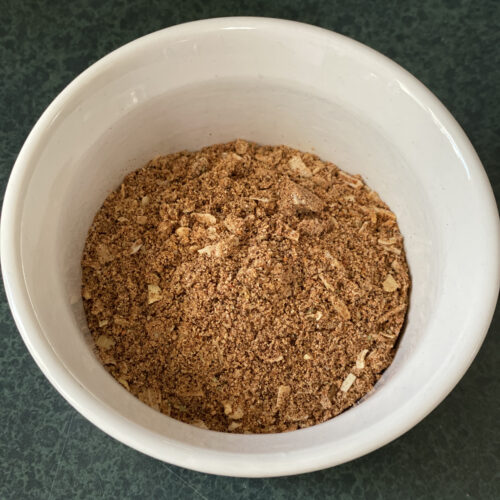 Taco Seasoning
Ingredients
4

T

dried minced onion

3

T

chili powder

1

T

cumin

1

T

garlic powder

2

tsp.

sea salt

1/2

T

oregano

1/2

tsp.

cayenne

1

T

cornstarch
Instructions
Mix all ingredients together and store in a jar until ready to use.

Heat a small amount of oil in a skillet over medium heat. Brown 1 pound of ground meat (we use turkey).

Add 3 T. of taco seasoning and stir to coat.

Add 1/2-3/4 cup water and simmer for 10 minutes.

Serve any way you want to serve taco meat. We serve it in flour tortillas with our favorite taco toppings.
Notes
This is a great seasoning blend to use any time you have a recipe that calls for taco seasoning. I always have a jar on hand so that I can use it easily anytime I need it for quick and easy dinners.