Strawberry Baked Oatmeal
Posted On March 2, 2022
Mornings are always busy around here! Whether it's getting out the door to school, or church, or an activity, it always feels busy. Plus, my children wake up early and hungry! Any of this sound familiar? I have found that make ahead breakfasts save me on busy mornings. I love to have a hearty and healthy breakfast, and, honestly, I am someone who gets bored very easily and can't just eat cereal or granola every morning. I know plenty of people who can, and that's great, but I am not one of those people. I need variety! So I have been slowly growing a collection of make ahead breakfasts that I can make during the afternoon one day, and then we can reheat all week. It's amazing!
This was one of the first breakfast recipes I've made, and it's a staple in my house. It has evolved over time and also has great flexibility for you to customize for your tastes. I used to make this recipe with regular white sugar, but over the last few years I have tried using less refined sugar, and we have come to love it with maple syrup instead. For a long time I would slice up a banana or two and place the discs at the bottom of the pan before pouring in the oatmeal mixture, and that is great too. Right now my kids are in an anti-banana phase, so we aren't doing that. But I'm sure we will go back to it at some point. I have also made this with all kinds of different fruits. Raspberries are delicious. So are blueberries as well as peaches. I use both fresh and frozen fruit and it all works great! I usually at least partially defrost the fruit so it's soft enough to chop up to the size and shape I want, but it is often not completely defrosted when I bake it, and it's just fine. Most recently I have made this with strawberries because strawberries remind me of spring, and I am so ready for spring! (I also had frozen strawberries that I wanted to use, so it was a win win!). It was delicious!
When I am ready to serve the oatmeal in the mornings, I just scoop out a portion and warm it up in the microwave. I love it eating it just as it is. I usually put a splash of milk in it for the kids after I've warmed it up; they prefer it that way.
Have fun with this recipe and enjoy a little calmer pace in the mornings with breakfast already taken care of!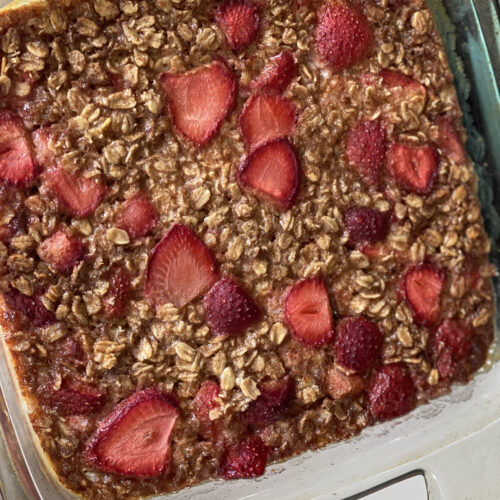 Strawberry Baked Oatmeal
Ingredients
2

c.

old fashioned oats

2

tsp.

cinnamon

1

tsp.

baking powder

1/2

tsp.

salt

2

c.

milk

1/3

c.

pure maple syrup

4

T.

butter

melted and cooled to room temperature

1

large

egg

1 1/2

tsp.

vanilla

1 1/2

c. (divided)

strawberries (fresh or frozen)

chop most of them to mix in the oatmeal, save a few to slice and place on the top.
Instructions
Preheat oven to 350 degrees. Spray and 8×8 glass baking dish with cooking spray.

In a large bowl, mix together oats, cinnamon, baking powder and salt.

In a medium bowl, whisk together the milk, maple syrup, melted butter, egg, and vanilla. (Make sure the butter is cooled. I also like to add it before the egg, so the milk continues to cool it. Otherwise you can get bits of scrambled egg in your oatmeal…)

Pour wet ingredients over the dry ingredients and stir to combine. Gently stir in the chopped strawberries.

Pour mixture into baking ban and place the reserved sliced strawberries on top.

Bake for 40 minutes, until set.
Notes
Helping Hands: This is a great recipe to make with kids!  It's pretty easy for them to help pour and mix the dry ingredients.  Then depending on their age and demeanor, they can help with mixing the wet ingredients depending on how tolerant you are of messes and assuming they won't try to eat it with the raw egg in it.  My son loves stirring it all together and also loved "plopping" in the strawberries at the end.
*Many different types of fruit would work for this.  We have made it with raspberries, blueberries, and peaches.  I also have sliced 1-2 bananas into discs and placed them in the bottom of the pan before pouring the rest of the mixture on top and that is good as well.  You can totally customize this to your preference. 
*I used to make this with 1/3 cup white granulated sugar and it worked well also. I now prefer pure maple syrup because it's healthier and we like the taste a little bit better, but either would work depending on your preference.