American Chop Suey
Posted On September 11, 2023
As we embark on the change of season and the schedule that comes with it, I am reminded once again that dinner time is hard. Feeding your family is hard. I love to cook, and there are still plenty of days that it is hard for me too. It requires constant planning and thought. I'm in and out of the kitchen all day, and I almost always do a little prep work on dinner early in the day to make the after school time more pleasant. That's not enjoyable for a lot of people! (And the dishes…ugh!) Then when you add in school, activities, work schedules and people's taste preferences dinner can feel like an impossible task. I totally get that! And I'm here for you, attempting to give you easy, family friendly meals for this season (and all the time).
I ate this meal all the time growing up. It was one of the staples in our family meal rotation, probably because it's relatively simple and generally a crowd pleaser. For a while my one son was not a huge pasta fan, so I didn't make it that much, but things have changed and now all of my kids enjoy pasta so we have a number of favorite pasta dishes that we rotate through. This is one of them. It's also a great meal to bring to a friend in need; it reheats well and makes plenty! Add this to your menu plan soon; you won't regret it!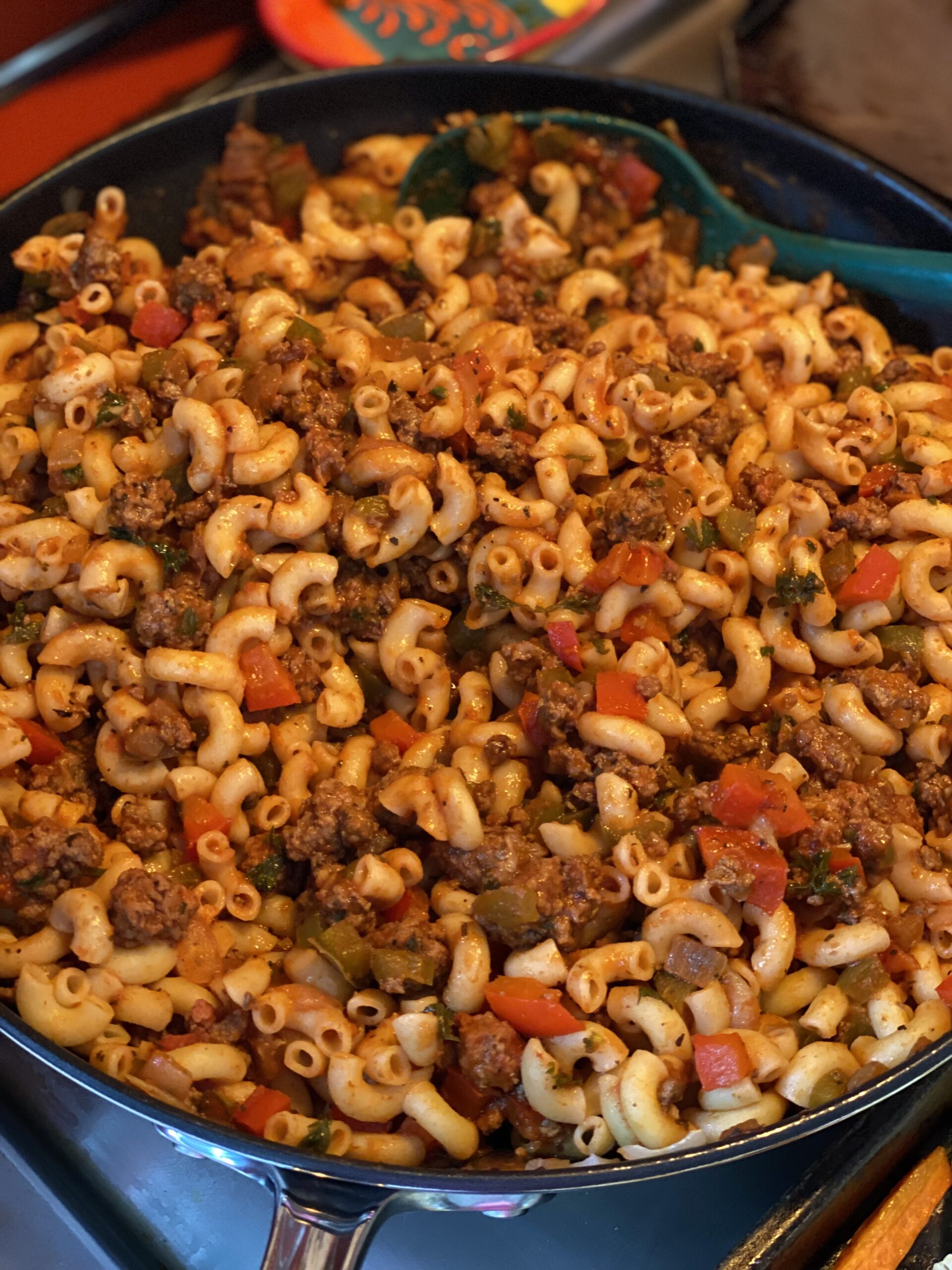 American Chop Suey
Ingredients
1

lb

ground beef

1

yellow onion

chopped

1

red bell pepper

chopped

1

green bell pepper

chopped

2

cloves

garlic

minced

1

tsp.

granulated sugar

1

tsp.

dried oregano

1

tsp.

dried basil

3

T.

fresh parsley

3

T.

olive oil

1/4

cup

ketchup

1

15 oz can

Tomato sauce

2

T.

parmesan cheese

plus more for serving

2

cups

dried elbow macaroni
Instructions
Cook elbow pasta according to package directions.

In a large skillet heat olive oil on medium high heat. Add onion and bell peppers and cook until soft.

Add ground beef and brown for about 5 minutes. Add garlic and continue browning for about 15 minutes until cooked through.

Add tomato sauce. After your pour in the sauce, fill about 1/3 of the can with water and add this to the skillet as well.

Add ketchup, basil, oregano and sugar. Cover the skillet and simmer on low for about 20 minutes.

Add parsley and simmer 10 more minutes.

Add cooked pasta to the meat and tomato mixture and stir to combine. Add parmesan and mix one last time.

Serve with additional parmesan.
Notes
What to serve with it: We love this with a simple green salad or steamed green beans.  If you are looking to have it go a little further and feed more people you can also serve it with a nice crusty bread.  There are also times that we simply have this for dinner.  With all of the veggies included in the dish it can really stand on its own as a balanced meal.