Salsa Chicken
Posted On March 7, 2023
I have a handful of recipes that have saved our family dinner more times than I can count. Typically these recipes are easy to put together, relatively hands off in the cooking process, and contain ingredients that we almost always have on hand in the fridge or pantry. There are some days that despite all my planning, the recipe that I had planned to make for dinner just isn't going to happen. Usually it's because plans changed and either I didn't have time to meal prep earlier in the day in the way that I needed to or I just ended up having more to do than expected and I don't have the energy for the recipe I had been planning.
This is one of those dinner saving recipes! Since I often have chicken defrosted in my fridge this works well for us. I generally keep salsa in the fridge or pantry and a batch of homemade taco seasoning is usually ready to go. This recipe is particularly good when I plan to have it and can make cilantro lime rice to go with it and can top it with plain greek yogurt and sliced avocado. However, there have been many times that I have served it plain on top of basic white rice, and that is perfectly fine too! When my dinner needs saving, I suddenly become a lot less particular!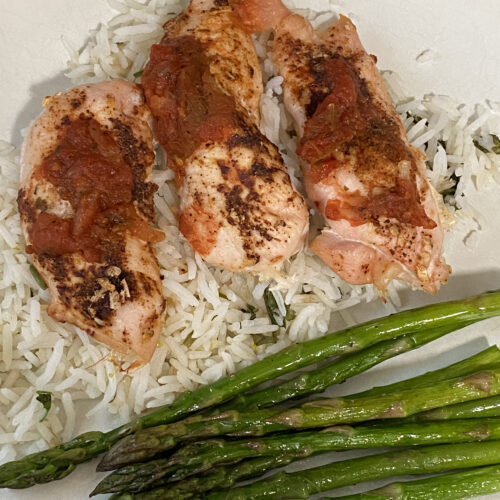 Salsa Chicken
Ingredients
1

lb

chicken tenders

3

T

homemade taco seasoning

(or one packet)

1/2-1

cup

salsa

cilantro lime rice, guacamole or avocado and plain yogurt or sour cream for serving
Instructions
Line a sheet pan with aluminum foil

Place chicken tenders on the sheet pan. Sprinkle with taco seasoning and rub into chicken to evenly coat the chicken.

Remove from oven and spoon a small amount of salsa over top of each piece of chicken.

Return to oven and bake for an additional 10 minutes until chicken is cooked through.

Serve on top of cilantro lime rice and topped with avocado, guacamole, sour cream or plain greek yogurt.
Notes
We love adding either guacamole or plain yogurt (for a healthier option compared to sour cream) to this. It adds a nice cooling component to complement the spicy seasoning and tomato elements.  The chicken also has a nice flavor with just the seasoning for anyone who likes it milder.  I usually make a few pieces without salsa for my sons who prefer it a little more plain.
All of these seasonings are to taste.  I hardly ever measure but just put on the amount we have come to like.  
What to serve with it: Since I'm already the oven I usually serve this with roasted asparagus on the side.  While the chicken is cooking for its first stage, I toss some asparagus on a second sheet pan, ends removed, and toss in a bit of olive oil and salt and pepper. I add the asparagus for the last 10-15 minutes of the cooking time for the chicken.  Dinner is ready all at the same time and its easy clean up with just two sheet pans instead of one.