Chicken Pot Pie
Posted On February 11, 2022
While the weather is still cold I wanted to share this pot pie recipe with you all. We just had it last week, and it hit the spot with the cold, snowy, icy weather we have been having. It is such a wonderful recipe for that kind of day. It's total comfort food. The first time I had this pot pie I just fell in love with it. Thyme is one of my favorite spices for warm, cozy food like this, and it comes through so well in this recipe. I find myself craving it at least once every winter, and because of the nature of this recipe, we usually get to eat it twice since it makes two pies! It's also a great recipe to bring to a friend in need. You can cook dinner for you and for your friend at the same time! You can bring it fully cooked to be reheated or deliver it after assembling it and provide the baking instructions so it can be freshly baked when they are ready to eat. Both options work great!
While I often shy away from more labor intensive recipes like this one right now because, with two young kids, I find I just don't have that much time to cook this kind of recipe, this one is totally worth it! My favorite part is that once I've made it, I have another dinner ready to go in the freezer for when life gets busy. This recipe can also be broken up into stages to make it a bit more manageable. You could prep the chicken, potatoes, and carrots early in the day or even a day ahead which makes for less work (and less clean up!) for one day. Half the battle with tackling a recipe like this is the clean up! I have also used leftover roast chicken or roast turkey breast for this recipe which works nicely. I personally prefer using white meat, but I'm sure a mix of white and dark meat would be good if that is what you prefer. I also often use a store bought pie crust which saves time as well. If I was using homemade pie crust I would definitely make some parts ahead because that is a lot to tackle all at once!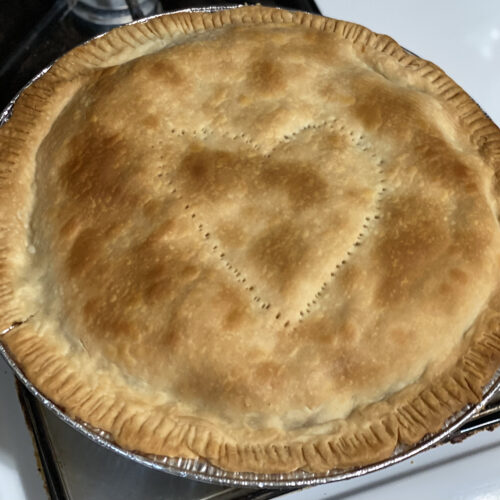 Chicken Pot Pie
Ingredients
4

cups

cooked chicken breast (or turkey)

cubed

4

medium

potatoes

peeled and diced (I like red or gold potatoes)

2

cups

carrots

sliced

1

medium

onion

chopped

1

cup

butter

(2 sticks)

1

cup

flour

2 1/2

tsp

salt

1

tsp

thyme

1

tsp

pepper

3

cups

chicken broth

1 1/2

cups

milk

1

cup

frozen peas

1

cup

frozen corn

4

pie crusts

(top and bottom crust for two pies)
Instructions
In a large pot, bring water to a boil, add the chopped potatoes and sliced carrots and boil until soft when poked with a fork (8-10 mins). Drain and set aside.

In a large skillet melt butter over medium heat. Add onion and sauté until soft. Stir in flour, thyme, salt and pepper and mix until combined. Gradually whisk in broth and milk, stirring to keep mixture smooth. Bring to a gentle boil and cook 2 minutes until thickened. Add cooked chicken, peas, corn, potatoes, and carrots and stir until everything is evenly distributed.

Line each pie plate with the bottom pie crust. Divide the filling between the two pies. Top with second crust and pinch the edges to seal the crust. You can also use a fork to press down on the edges and make lines going around the rim of the pie plate.

Bake at 425 degrees for 35-40 minutes until golden. I usually tear pieces of tin foil to cover the edges of the pie so they don't burn. Let stand 15 minutes before cutting and serving.
Notes
Make ahead options: This is a make ahead meal by nature, in a way, because it makes 2 pies and the pies can easily be cooked right from the freezer as well as fresh. (Directions for baking frozen pie below). I love when I make this recipe because, while it is more labor intensive than some, I know that I am going to have a meal ready to go in my freezer after I make it!
As far as making the pie initially, I think this recipe could easily be broken up into stages to be done earlier in the day or even the day before.  I often prep the meat (or use leftover roast chicken) and cook the carrots and potatoes early.  I also try to clean up that portion of the dishes.  That way it's a little less overwhelming to tackle the next part of the pie and clean up later in the day.
To freeze the pie: When I am ready to freeze my second pie I let it cool for a while so it is easy to handle. I usually put the pie that I want to freeze in a disposable pie plate (that I wash and reuse for this purpose) that way I don't have a glass pie dish in my freezer and unavailable for use until I bake the second pie.  Then I cover it with a layer of plastic wrap, a layer of foil, and then place it in a 2 gallon ziploc bag.
To bake the pie from frozen: Remove from freezer, remove ziploc, foil and plastic wrap.  I usually tear up this foil and use it to cover the edge of the pie to keep it from burning.  Bake at 425 for 30 minutes, then reduce heat to 350 degrees and bake for an additional 70-80 minutes or until golden brown.  Let stand 15 minutes before serving.