Baked Stuffed Eggplant
Posted On September 25, 2023
Given my current stage of life with lots of littles running around, there are not a lot of labor intensive recipes that I post on here. For a meal to become a family favorite, it generally has to be pretty quick and easy. However, this one is so unique and delicious that I feel like it deserves a post. I probably make it once or twice a year because of the labor involved, but it's always worth it. I also make it in an attempt to help my kids like eggplant. I figure if I continue to expose them to it they will start to like it. We'll see… At least they tolerate it and eat it without too much complaining. I LOVE eggplant and am always trying to find ways to make it and convert the rest of my family to love it as well. At least this one, since it has meat in it as well, has enough protein for my husband to also enjoy it.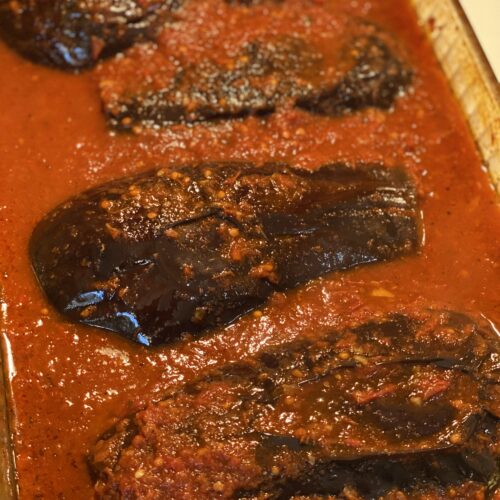 Baked Stuffed Eggplant
Ingredients
2

large

eggplants

1 1/3

lb

ground turkey

1/2

cup

seasoned breadcrumbs

1/2

cup

parsley

1/2

cup

parmesan cheese

4

cloves

garlic

minced (divided)

salt and pepper to taste

1

24 oz

jar or your favorite marinara sauce

1-2

T.

olive oil
Instructions
Preheat oven to 350 degrees.

Cut off the tops/stems of the eggplants. Slice them lengthwise. Using a spoon, scrape out the majority of the insides to leave about 1/4-1/2 inch shell. Set the shells aside.

Place all the insides of the eggplant into a food processor and pulse until finely chopped. Transfer this eggplant to a large bowl and mix together with the ground turkey, bread crumbs, parsley, parmesan, garlic and salt and pepper.

Set filling aside and heat 1-2 T. of olive oil and 2 cloves of minced garlic in a large skillet. Lightly sauté both sides of the large eggplant shells in oil one at a time for a few minutes per side. The edges and back of the eggplant should blister slightly and get a little bit soft.

Allow the eggplant shells to cool slightly so they can be easily handled. Meanwhile, heat the tomato sauce in a saucepan until warmed nicely.

Pour a small amount of the heated sauce in the bottom of a 13×9 glass pan. (Just enough to lightly coat the bottom of the pan).

Once eggplant shells are cool enough to handle, stuff each one with the eggplant and ground turkey mixture. Place the shells face down in the prepared 13×9 pan.

Spoon the remainder of the sauce overtop of the eggplant and cover the dish with foil.

Bake at 350 degrees for 60-90 minutes until tender and meat is cooked through. (165 degrees)
Notes
What to serve with it: This feels like a complete meal to me.  We usually serve this with a nice slice of sourdough bread, roll, or garlic bread.  If you are looking to round out the meal even more, a green salad would also go well with this. Make Ahead Options: Since this is a bigger undertaking, I almost always make this during nap time and let it rest in the fridge for a bit before baking if I finish early.  However, since it bakes for so long in the oven, it's usually not long before it's time to bake it.  At least, if I have to go pick up one of my kids from school, I can leave it in the fridge and know it can go right in the oven when we get home so dinner is on time.