Guacamole
Posted On May 27, 2022
I love Memorial Day weekend! I am definitely a huge summer fan, so it always excites me to kick of the season of warmer weather, barbecues, swimming and vacations. I'm guessing many of you will be headed to a barbecue or two this weekend, so I wanted to share our favorite guacamole recipe with you. It's a huge crowd pleaser, so I'm sure it will be a hit at any party you bring it to!
I must say, I had no idea that guacamole would be so appealing to my kids until I served it on a whim to my son a few years ago and he couldn't stop eating it. I'm not quite sure why it was so surprising to me, but it was! I have been making this recipe for years. One year I made it for my mom and she loved it, so it became a tradition that I make it as the appetizer for her birthday lunch/dinner every year. We usually barbecue since her birthday is in the summer, and this is the perfect thing to munch on while sitting around on the porch grilling the rest of the meal. One year my son wanted to try some and he was hooked. Now we make it almost every week at our house to go with our dinner. Both the boys love it, and it often helps them eat a meal they aren't quite sure of.
I also love making this recipe with my boys. They love mashing and mixing, and it's relatively easy so they can help with the entire process. There is also nothing raw or hot so I don't have to worry if they try and sneak a taste while we are making it. And at the end they each get to lick their mixing spoon. (It's just like when you lick the beaters when making icing!). They love it and get so excited to help make it with me.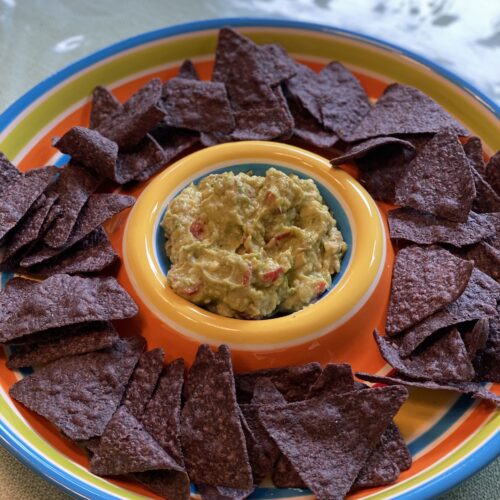 Guacamole
Ingredients
3

avocados

1

tsp

salt

juice of 1 lime

1/4

cup

cilantro

chopped

1/4

tsp

hot sauce

1

clove

garlic

minced

handful

grape tomates, diced

optional
Instructions
Cut open avocados, removing pits and skins, and place in a bowl. Mash. (I like to mash mine with a potato masher).

Add remaining ingredients and mix well with fork or spoon depending on how smooth you like your guacamole

Serve with chips or on your favorite Mexican dishes.
Notes
Helping Hands: This is a great recipe to make with kids!  My son has been making this with me for so long now!  He loves to mash the avocados and then stir as I add all the other ingredients.  He's even been learning to squeeze the garlic press and lime juicer more recently. Since guacamole is one of his favorite foods he is almost always excited to help make it! 
Notes: This is great with or without tomatoes. If I am making it for a gathering or event when it will all be eaten that day I include the tomatoes. When I'm just making it for us to eat over a few days I usually leave them out. While the guacamole browns a little in the fridge no matter what, without the liquid from the tomatoes it seems to last a bit longer which works great when we have it as a topping for our dinner and want some when we have the leftovers for lunch the next day. 
The quantities for this recipes are definitely flexible and to taste.  I hardly ever measure any of these ingredients anymore.