Biscuit and Vegetable Breakfast Casserole
Posted On February 14, 2023
I love breakfast casseroles! I have no idea why they are so appealing to me, but I always really enjoy them. I have several that I like to make, and this is one of my favorites. The biscuits make a nice addition and are a unique element in this one compared to many other breakfast casseroles. This is also vegetarian which I really like; however, you could easily substitute some cooked meat in place of some of the veggies if you wanted to, or you could serve some breakfast meat on the side if you were looking to add some more protein.
This is a dish I love bringing to a breakfast or brunch that we are going to or even just making for our family so that we have breakfast ready to go for a few days. For a while my kids weren't super into these types of dishes so I didn't make them very often, but I think they might be starting to come around which makes me really happy! I also love to have a simple make ahead breakfast for busy holiday mornings, like Christmas, and since this reheats well, I have often made something like this the day before and then we just reheat individual portions of it for breakfast on Christmas. I've used both red and green bell peppers to make is festive as well. With the chaos of kids waking up early and wanting to open presents, making an elaborate breakfast just doesn't ever seem feasible to me, so this is perfect. We get a nice Christmas breakfast and it doesn't stress me out. On Christmas we usually serve an egg dish like this along with cinnamon rolls and it is super delicious!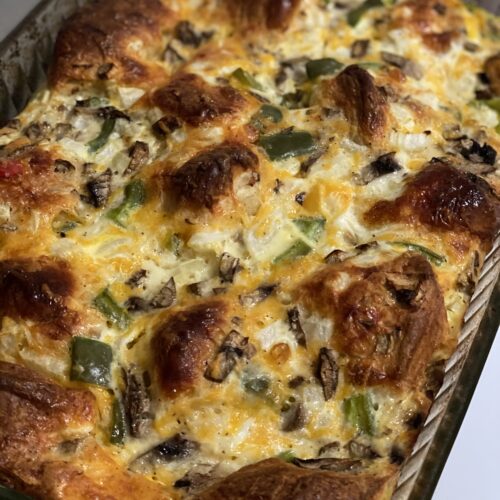 Biscuit and Vegetable Breakfast Casserole
Ingredients
1

8 oz tube

refrigerated biscuit dough

8

eggs

1

cup

milk

1/2

cup

yellow onion

chopped

1

cup

green bell pepper

chopped

1/2

cup

white mushrooms

chopped

1

cup

cheddar cheese

shredded

1

cup

mozzarella cheese

shredded

1/4

tsp

black pepper
Instructions
Preheat oven to 350 degrees. Spray a 13×9 inch glass pan with cooking spray.

Break biscuits into 3-4 pieces each and arrange them in the bottom of the pan, spacing them evenly.

In a large bowl, whisk the eggs, then add milk, chopped veggies, and cheese and whisk to combine.

Pour egg mixture over biscuits, using a spatula to spread it out evenly if needed.

Bake uncovered for 45-50 minutes until cooked through and a knife comes out clean from the center.
Notes
*I have found it is often difficult to find only 8 oz of biscuit dough, however, any time I have added more than 8 oz it has really affected the flavor and baking time.  Now when I make it, if the container is larger I just bake the extra biscuits separately on a cookie sheet and we use them for something else another day.  
*The veggies for this recipe are very customizable to your tastes.  This is our favorite combination but I'm sure you could change up the ratio or even add some cooked meat if you wanted to, I would just make sure that all of the veggies/meat that you add amount to 2 cups total.  That should keep the ratio right for everything else.  (I would hesitate to skip the onion as I think that adds great flavor, but you could certainly try it.)
Make ahead options: I love making this the morning of and often try chop the peppers and onions the day before so I just have to get the mushrooms and other ingredients ready.  While I have never reheated the entire thing in the oven, I do know the leftovers are great reheated the next day!