Favorite Meatballs
Posted On October 25, 2022
For some reason I have struggled for a long time to find my favorite, go-to meatball recipe. I have tried so many and they either make TONS, which I don't really have time to do, or they come out too dry, or don't have enough flavor or are too time consuming….the list goes on and on. I feel like I have been on a quest for a simple meatball recipe that can be a standby for our family on a regular basis for years. I think I finally figured it out! I have made these a few times and they have come out perfectly every time! (My oldest is a big fan of meatballs so he's been thrilled by my quest to make the best meatballs). I think the key to this recipe that makes them both moist and flavorful is that they are cooked right in the simmering sauce. When I baked them ahead they were too dry, and I didn't really feel like adding the extra time and calories to fry them first. This method is just perfect for us! It's quick and easy and delicious!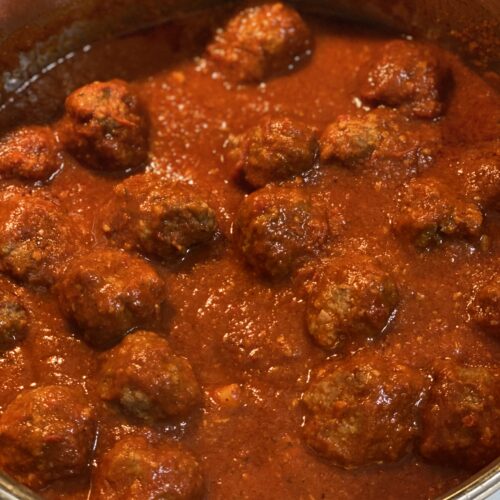 Favorite Meatballs
Ingredients
1

lb

ground beef

1/4

cup

grated parmesan cheese

1/3

cup

dry Italian style breadcrumbs

1

large egg

6

cloves

garlic

minced

1

tsp.

salt

24-32

ounces

pasta sauce
Instructions
In a medium mixing bowl, combine ground beef, cheese, bread crumbs, egg, garlic and salt. Mix well. I typically use my hands as I feel like they come out best that way.

Shape into meatballs about the size of a golfball and place on a cookie sheet.

Cover with foil and let rest in the fridge for about an hour.

When ready to cook, bring sauce to a gentle simmer in a shallow pot. I like to use one that allows me to cook the meatballs in one layer with them mostly covered by sauce.

Add meatballs, cover and cook on low for about 45 minutes until cooked through, stirring occasionally.

Serve over pasta or on rolls for meatball sandwiches.
Notes
*When I made these most recently I did not have enough grated parmesan cheese, so I ended up subbing shredded mozzarella for about half the quantity of cheese and it came out great!  
Make Ahead Options: Since the meatballs have to rest anyway, this meal naturally lets you get ahead earlier in the day.  Once the meatballs are made and in the fridge then it's just a matter of simmering them on the stove when it's time to eat.  I love using homemade sauce that I make in large batches in the summer when our tomato crop is coming in. I freeze it and then it's ready to go for meals like this. Store bought sauce also works great for this.  You could also start really early and simmer the meatballs ahead as well. Then it's just a matter of reheating when it comes time to eat.  
These also are a great freezer meal! Once they are cooked I freeze a container of meatballs and sauce together for a great quick and easy meal!
What to serve with it:  We eat these as meatballs sandwiches topped with a bit of mozzarella. They are also great over pasta.  Either way I usually like to serve it with a simple green salad or steamed vegetable.