Healthier Baked Eggplant Parmesan (a.k.a. "Eggplant Pizzas"
Posted On March 19, 2022
At this time of year, during Lent, we try to not eat meat on Fridays. Personally, I like the reminder to be focused on the coming of Easter and both the sorrowful and joyful aspects of the holiday. I often get preoccupied with daily life, and this little reminder is not only a small sacrifice, but it also helps me remember that we are, in fact, approaching Easter. Honestly, what's probably most challenging is remembering to do it for lunch as well. I almost always eat leftovers for lunch, so I have to be careful not to just eat the leftovers from dinner the night before… Again, the exercise points me back to the season.
This is a recipe that I always enjoy on our vegetarian nights. (We eat it throughout the year as well). While I love traditional eggplant parmesan, it's made with a lot of cheese and oil and also takes a long time to prepare. We love this version because it's a little quicker and it's also healthier. It's baked, rather than fried, so it only uses a little bit of olive oil in the preparation. You can easily control the amount of cheese you want to put on them as well. The hidden bonus is that they look like pizzas, so when I was trying to make dinner sound more appealing to my kids, rather than saying eggplant parmesan, I started calling them eggplant pizzas, and it has worked pretty well overall. They mostly eat them happily.
Overall the recipe comes together pretty quickly, the most important thing to do ahead is make sure you slice the eggplant and set it in a strainer sprinkled with salt for an hour or two before preparing the meal. It's a small step, but it helps release the bitterness in the eggplant, and I find it does make a difference. After that, it's just assembling them and getting them into the oven to bake. You do have to be nearby to take them out and flip them and then add sauce and cheese, but none of the steps are hard as long as you stay close by the oven.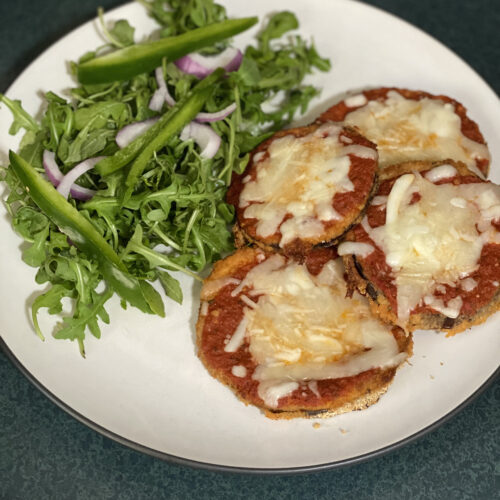 Healthier Baked Eggplant Parmesan (aka "Eggplant Pizzas")
Ingredients
1

large

eggplant

sliced into 1/4 inch slices

1

cup

Italian breadcrumbs

1.5

cups

marinara sauce

1

cup

shredded mozzarella cheese

1/4

cup

grated parmesan cheese
Instructions
Placed sliced eggplant in a strainer and sprinkle with salt. (I layer them and sprinkle lightly with salt for each layer). Let sit for at least one hour. Pat dry with a paper towel. (This will help release any bitterness in the eggplant).

Lightly oil a baking sheet (or two) with olive oil and preheat the oven to 400 degrees.

Whisk eggs together with a splash or water in a small bowl. In another bowl pour the breadcrumbs.

Dip each slice of eggplant in the egg and then in the breadcrumbs. Then place on the lightly oiled baking sheet.

Bake at 400 degrees for 20 minutes, until lightly browned on the bottom.

Flip eggplant slices and return to oven for another five minutes until the other side is lightly browned.

Top each slice of eggplant with marinara sauce, mozzarella, and a sprinkle of Parmesan. Return to oven and bake until cheese is melted (about another 5 minutes).
Notes
*Many of these measurements will vary based on the size of the eggplant you are using.  These are the general amounts that I use, but I always adjust if I find myself with fewer or more eggplant slices than normal.  
What to serve with it:  We usually like this with a nice green salad.  I love arugula or a simple mixed green salad with vinaigrette.  You could also serve this with pasta or bread to make for a heartier meal if desired. Typically I serve to my kids with broccoli or another steamed veggie as that is there preference over salad, and that is good too.
Make ahead options: While this does reheat pretty well, I don't usually make this ahead.  The main step to do ahead of time is slice the eggplant to allow it to rest in the strainer with salt for an hour or two.  It does make a difference and is definitely worth the extra step!