Grilled Asparagus
Posted On May 22, 2023
In honor of Memorial Day weekend coming up, which feels like the start of grilling season to me, I thought I'd share one of our favorite sides that we make on the grill. Seriously, it's ridiculous how often we make this! It's super easy and flexible as far as how long it marinates. Sometimes I let it sit for 30-60 minutes and other times it marinates overnight in the fridge. I like it best for at least a few hours or overnight, but plenty of times I've done it quickly and it's been great too. 
I do recommend using grill mats for this asparagus as it's easier to keep everything together and save anything from falling through the grates, but  I'm sure you could do it without. Since it's veggies you just grill them until they are the consistency that you like them. So delicious and easy and healthy! If we are grilling multiple items for dinner we always do this dish last since it's so fast and also cools off rather quickly. 
One last thing, this is also great with zucchini and yellow squash! I'll have to share a post about that later, but we slice the squash lengthwise so that you have long flat pieces (like you would for zucchini lasagna) and then follow the same process. Such a great way to use zucchini when you suddenly have a boatload coming in from the garden!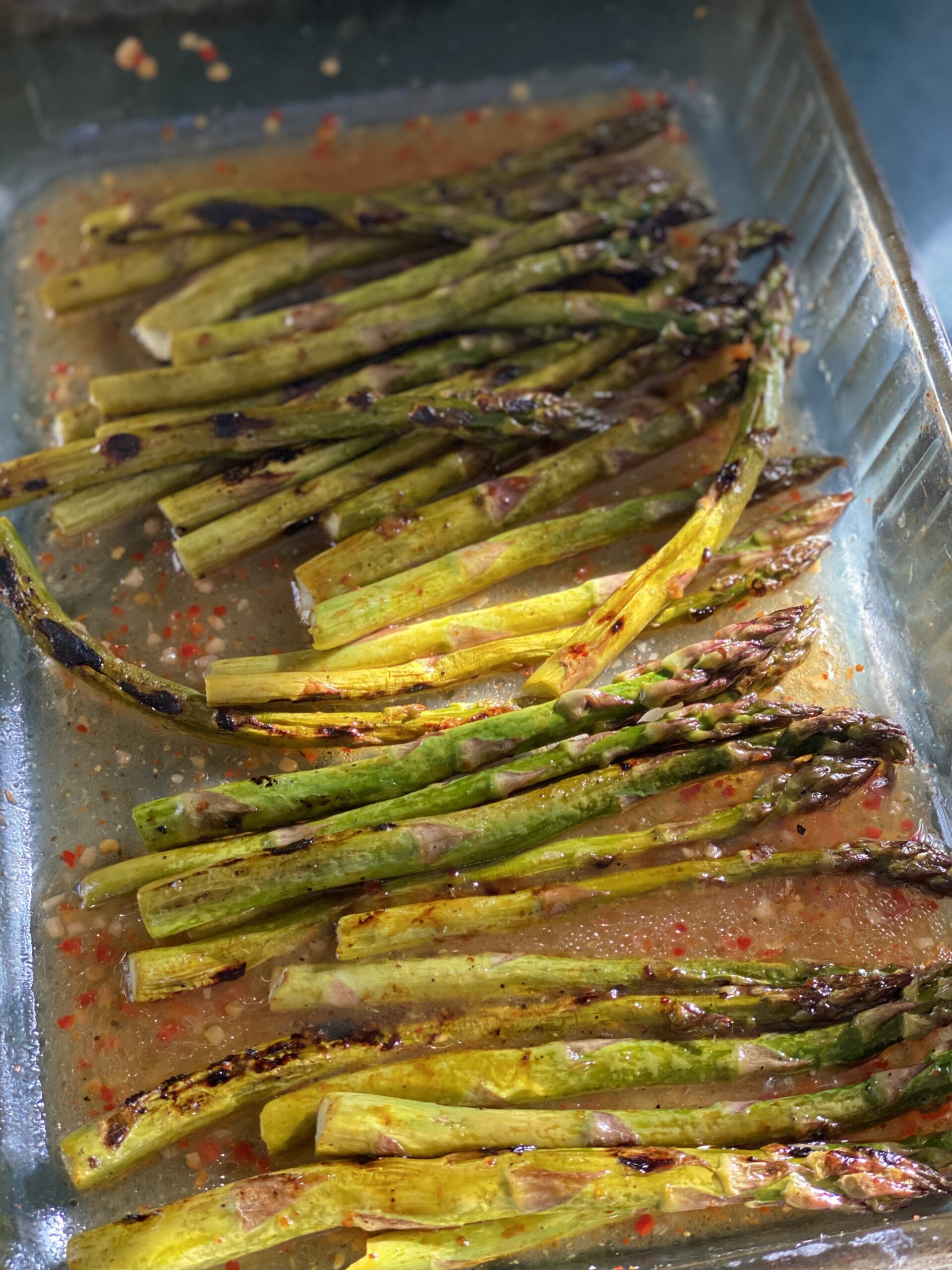 Grilled Asparagus
Ingredients
2-3

bunches

asparagus

washed and trimmed

1

bottle

Italian dressing

use whatever is your favorite
Instructions
Place asparagus in a large ziplock bag or 13×9 glass pan and cover generously with Italian dressing. You may not use the whole bottle, just enough to coat them nicely.

Cover and place in the refrigerator for at least 30 minutes or overnight. When ready to grill remove from dressing and place on a preheated grill (we like to grill these on grill mats to make it easier). Grill until they reach your desired level of doneness. We like them with a little bit of crispy black spots, but you can grill them more or less depending on your preference.

When finished place them on a platter. If desired you can toss in remaining dressing from the marinade or just serve as is without extra dressing. We have done both depending on our mood, but most often serve it without additional dressing.
Notes
Make Ahead Options: I love that this can be prepped ahead of time for a barbecue.  I usually do this the night before so that it's ready to go when people are over and I can just pull it out of the fridge.   Helping Hands: This is a great one for kids to help with.  They can snap the ends off the asparagus and can also pour on the dressing. It's not complicated but it might make them more inclined to try asparagus.  My kids love it!