Instant Pot Steel Cut Oats
Posted On November 6, 2022
I don't know about at your house, but at my house mornings are often busy even if we aren't immediately going somewhere. As everyone is waking up and hungry and needing various things, I sometimes feel like it can be hard to make a breakfast that requires a lot of attention. That is why I love this method of cooking steel cut oats! While it may not be much faster than cooking them on the stove, it requires zero attention from me after I start the instant pot. If we want to have these for breakfast, preparing them is the first thing I do when I come down in the morning. Once I have added the oats and water and started the pressure cooker, then I go about all of my other regular morning tasks (like making my coffee!). It's so nice to be able to do all of those other things, like get the table set, wake up any kids that aren't awake, help people get ready for the day, and know that breakfast is cooking away! Also since this is just the method for cooking the oats it is completely customizable for anyone's taste. We all often top it with different things, so it's nice to just have the basic ready for people to eat as they desire.
This is also great reheated. I always make the full batch and we get 2-3 breakfasts out of it depending on how many people are eating it and how hungry they are. I typically just warm it up in the microwave. If I know I am going to be adding milk to it after it's heated, I warm it up as is. If I won't be adding milk, I usually add a bit of water to it before reheating it to help loosen it up from being in the refrigerator.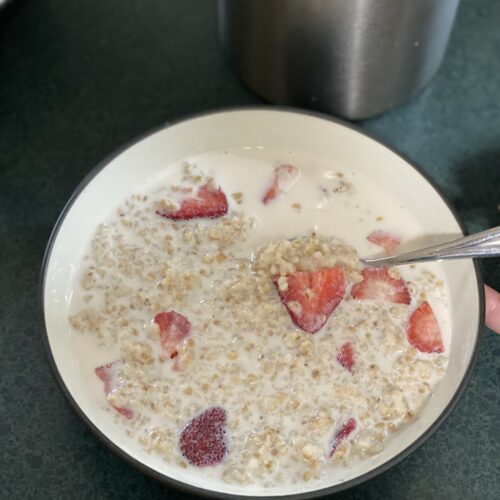 Instant Pot Steel Cut Oats
Ingredients
2

cups

steel cut oats

4

cups

water

milk, brown sugar, maple syrup, or fruit for serving
Instructions
Add the steel cuts oats and water to the instant pot.

Put the lid on and set to sealing.

Cook on high pressure for 4 minutes. Then let the pressure naturally release for 15 minutes (this will continue to cook the oats).

Release any remaining pressure if there is any and serve topped with your favorite oatmeal toppings. We love berries, milk, and brown sugar, but I'm sure there are many other options!