Honey Mustard Chicken
Posted On March 12, 2022
Remember those Roasted Root Vegetables I shared with you? Well, this might be the dish that I serve with them the most. They go together so well! The extra sauce from the chicken complements the potatoes so nicely, and it makes a well rounded meal. Plus, I find I can usually cook them in the oven at the same time. While the veggies roast at a slightly higher temperature than the chicken, usually I start the vegetables at their higher temperature and then when I add the pan of chicken to the oven, which is usually during the second half of the cooking time for the vegetables, I just lower the oven temperature to the chicken temperature and sometimes add 5-10 minutes to the vegetables to make sure they are soft enough. (Sometimes it doesn't need any extra time, it depends on how small I cut the potatoes).
I love this chicken recipe because the flavor is amazing! I always enjoy honey mustard. It also basically has a gravy to go with it. I love sauces on my food, but I rarely make a roast chicken or other such dishes that have gravy and mashed potatoes. While they are delicious, I don't often find the time, and we generally try to eat meals that are a little lighter. This dish satisfies a bit of that desire for me. (However, I do have a few favorites that I make each winter that I'll be sharing here. They are a bit nostalgic for me as we often ate those types of meals on Sundays when I was growing up). I, on the other hand, have opted to have Sunday be my day off from cooking and we eat leftovers. It works well for us, though, because we often are getting together with family for lunches, celebrating birthdays, barbecuing, and the like, so we often wouldn't need to cook anyway. Plus, this helps make sure our leftovers don't go to waste. While I love to cook, I find that one day off each week gives me the respite I need to maintain the type of cooking I want to do on all the other days.
I will also add that this honey mustard chicken is a great meal to serve when you are having guests over or to bring to someone in need. I've done both, and it's been great. Once everything is prepped, it is relatively hands off, which makes it nice if you have people at your house. (This goes for the root vegetables as well). Both dishes also reheat well, so it's a nice option to bring to someone in need of a meal.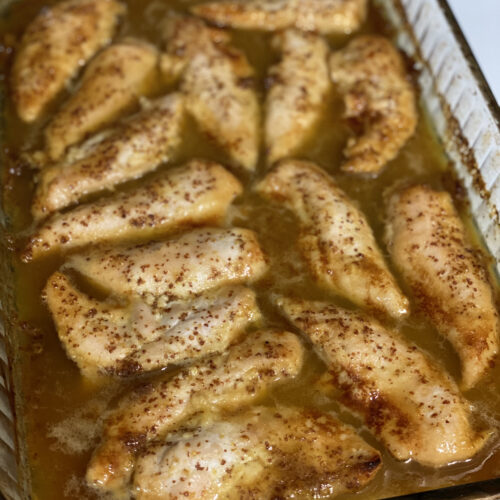 Honey Mustard Chicken
Ingredients
1

lb

chicken breast tenderloins

4

T.

melted butter

1/4

cup

dijon mustard

(I liked Grey Poupon Country Dijon)

1/3

cup

honey

1/4

tsp.

curry powder
Instructions
Preheat oven to 400 degrees.

In a small bowl or glass measuring cup, whisk together sauce ingredients.

Add chicken to a baking dish. (For 1 pound of chicken I like to use something a bit smaller than a 13×9 so that the sauce nicely covers the chicken at least partially. I often double the recipe and then use a 13×9 pan now that my family is growing and we need more food)

Pour half the sauce over the chicken.

Bake for 15 minutes. Remove from oven and pour additional sauce over top, basting the chicken so it's nicely coated.

Return to oven and bake for an additional 15 minutes or until cooked through. .
Notes
What to serve with it: I love to serve this chicken with my roasted root vegetables.  The combination is delicious and the sauce works nicely with the vegetables as well.  This could also be served with mashed potatoes or a nice wild rice blend and a simple steamed vegetable.