Mom's Grilled Barbecue Ribs
Posted On May 23, 2022
In honor of Memorial Day this coming weekend, I had to share one of our favorite grilling recipes. It's funny, as a kid I grew up eating these regularly and never gave them much thought. I didn't pay attention to how they were cooked, I just knew that we made delicious ribs for various summer holidays and they never seemed very difficult. When I got older and friends started talking about grilling ribs and how long it took, I was so puzzled. I had never remembered them taking that long when we made them, but I thought maybe I just hadn't been paying attention. I asked my mom about hers and was so pleasantly surprised by the process! They are so easy and don't require four hours of grilling over low heat. In addition, since the prep work is done early, we find it fun to make for family gatherings because we can get some of the work done earlier, and then it's a pretty quick grilling process when it comes time to eat. I will say to make this for a large crowd would be a bit of a challenge since you boil the ribs first, and they take up a good bit of space in a pot, but we make them for 6-8 people pretty regularly and it works great!
The secret to these ribs is that you precook them, so when it comes time to grilling you are simply heating, adding some nice grill marks and flavor, and basting with barbecue sauce. The liquid you boil them in first is super flavorful, infusing the meat with pickling spices and onion and making them tender ever time!
You have to try these for your next barbecue! If you're like me you will never make ribs another way again!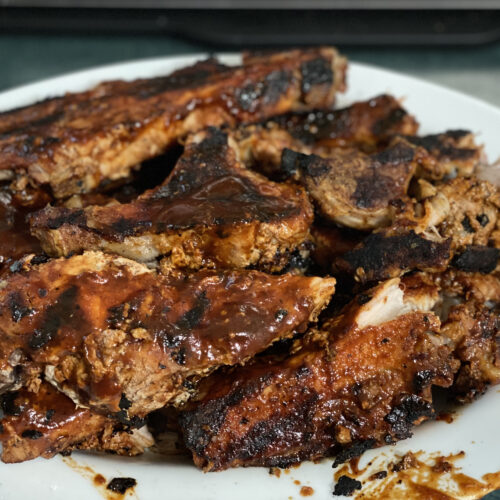 Mom's Grilled BBQ Ribs
Ingredients
1

rack

baby back ribs

(Spare ribs work as well)

3

T.

McCormick Pickling Spice

(You can find this in the dried herb section)

1

bay leaf

2

small yellow onions

peeled and quartered

Favorite BBQ sauce for grilling
Instructions
Cut ribs apart and place in a large pot (I usually use my stock pot).

Add pickling spices, onions, and bay leaf.

Bring to a boil. Then reduce heat to a simmer.

Simmer for 1 hour, until ribs are cooked through.

Turn off heat, cover, and leave the ribs resting in the liquid until ready to grill.

Remove ribs from water and place on a platter when ready to grill. Heat through on the grill, basting with BBQ sauce until well coated and the sauce sets.