Slow Cooker Sweet and Spicy Honey Chicken
Posted On January 22, 2022
I love my slow cooker! It helps meal time come together so much more easily when everyone is tired and hungry. However, I have also noticed that so many slow cooker recipes have processed ingredients and are often not very healthy. I love this because its good for my family and still has the ease of the slow cooker! Since this only takes a few hours, this is a great one to prepare either right after lunch or during nap time depending on what time you eat. Then the final steps, rice and a steamed veggie, can come together at the end.
I love Chinese style flavors, but we rarely get take out and now I have found I often prefer to make my own. This one fits the bill and satisfies my desire for an Asian inspired meal that is healthy and does not require tons of time to prepare.
Also, as you'll see in my recipe notes this is a great meal to bring to a friend. I was recently looking to bring someone a meal, and based on their dietary restrictions my normal meals that I bring to friends were not good options, so I tried this. It worked great and they loved it! I'm so glad to know this now!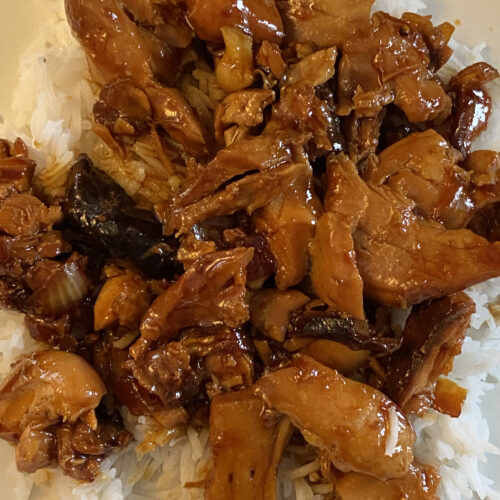 Slow Cooker Sweet and Spicy Honey Chicken
Ingredients
1.5-2

lbs

boneless, skinless chicken thighs

3/4

cup

honey

1/2

cup

soy sauce

1/4

cup

ketchup

1/2

cup

yellow onion

diced

2

T

olive oil

2

cloves

garlic

minced

1/4

tsp.

red pepper flakes

1-2

dried red chilis (we use Thai dragons from our garden)

diced (feel free to use additional red pepper flakes, and adjust quantity for the level of spiciness you prefer)

4

tsp.

corn starch

6

Tbsp.

water

salt and pepper
Instructions
Season chicken lightly with salt and pepper and place in slow cooker

In a small bowl (I use a liquid measuring cup) whisk together honey, soy sauce, onion, ketchup, oil, garlic, pepper flakes, and diced dried chilis. Pour over chicken.

Cook on low for four hours or until chicken is cooked through.

Remove chicken from crockpot and set on cutting board, leave the sauce. Dissolve 4 t. cornstarch in 6 T. water in a small bowl.  Add to crockpot and stir to combine.  

Replace lid and cook sauce on high for 10 minutes for it to thicken.

Cut chicken into bite sized pieces, return to crockpot once sauce is finished cooking and toss to combine. 
Notes
Helping Hands: I usually have the kids help mix the sauce ingredients. I just don't let them handle the hot peppers. Its a small task, but it helps if they want to be involved and it helps them feel invested in dinner.
What to serve with it:  We usually have this chicken over rice along with a steamed broccoli. 
This is also a great meal to bring to a friend or family in need.  It reheats well and I just send two containers, one of the chicken and one of cooked rice.  Then I either prepare a steamed veggie or send a few steamer bags of frozen vegetables and they have a great meal!