Frozen Parsley
Posted On September 24, 2022
As summer is coming to a close and I am wrapping up our gardening season, it seemed appropriate to share one of my favorite ways to preserve a portion of our harvest to use throughout the winter. In addition to this process saving money by preserving the herbs I have grown in my garden, it also simplifies cooking for me as I have fresh parsley chopped and ready to throw in any dish at a moment's notice. It's so nice to not have to wash and chop it in the moment but just toss it right into soups and stews and other recipes (like these awesome pork meatballs and egg noodles).
I love the idea of preserving fresh herbs for use throughout the winter so that they don't go to waste and I can enjoy their fresh flavors. However, I generally can't be bothered with any process that is overly time consuming or difficult. It just doesn't end up happening. This process of preserving parsley is SO easy that I do it all the time, and I always have a container ready to go in my freezer. Usually I take the parsley in my garden and chop almost all of it down and preserve it twice during the summer. That often lasts me most of the winter. However, if I run out (or have rabbits eat all my parsley in my garden like I did this year….) I have bought a large bunch or two from the store and preserved it the same way. I rarely need the amount of parsley that comes in a bunch at the store, it's always rather large, so this a great way to have it on hand at all times.
When a recipe calls for fresh parsley, I use this parsley directly from the freezer (no thawing required) and it's perfect and flavorful. I also use this in recipes that call for dried parsley as I find that dried parsley has very little flavor. This is so much better! If I double the amount of dried parsley required by a recipe when using fresh it seems to be the right flavor. But I'll be honest, I rarely measure it and it always comes out fine.
The only thing I do not use this parsley for is a cold recipe that calls for fresh parsley (like a salad) that won't be cooked or made into a sauce or dressing. I feel like the texture of it when it defrosts would not lend itself well to a recipe like that. It would be too wet. But I think anything else would be just fine!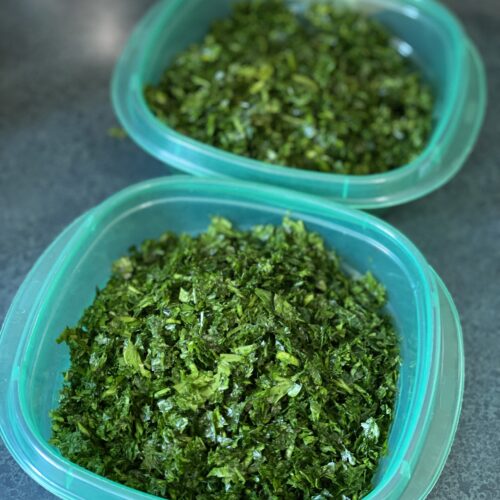 Frozen Parsley
Ingredients
Fresh parsley

(however much you want to preserve. I usually do 1-2 large bunches)
Instructions
Remove all the large stems from the fresh parsley. I do not take all the leaves off the stems, I just remove the large bottom stems and then anything else that seems particularly large or thick that wouldn't be appealing to chop and preserve).

Wash well in a colander and dry. I prefer to dry mine in a salad spinner because I think it's the best way to remove as much excess water as possible. I'm sure you could dry with a towel and/or let sit out to dry more thoroughly.

Place in a food processor in batches and pulse until finely chopped.

Transfer to a container for storing in the freezer.

When any recipe calls for fresh or dried parsley, just break off however much you want to use and toss in in the dish from frozen. It defrosts almost immediately in any hot dish. (If using for a recipe that calls for dried parsley I usually double the quantity when using fresh). I also wouldn't recommend using this for a cold dish (like a salad) that isn't being cooked or made into sauce. I don't think the texture would be right when it defrosts.