Baked Spaghetti
Posted On April 30, 2022
We love this meal! It is such a crowd pleaser! My kids love it and it feeds a crowd, so it's great if you are having people over for dinner. It's also a great meal to bring to a friend in need. This might be my favorite meal to bring to others since it reheats so well and is generally liked by most people. This recipe originates with one of my college roommates who shared it with me when someone made it for her and her family. We have since adapted it to make it work for our tastes and style of eating. It's delicious! This recipe is also very flexible. I used to make it with ground beef, but now I always make it with ground turkey just to make it a little lighter. I also rarely measure any of the spices, I often just sprinkle over the top of the meat, and it comes out perfect every time. I love a recipe that I am confident will always come out great!
This is also a perfect freezer meal. Sometimes I make the 13×9 pan and bake as normal, then I take half of it and freeze it for later. Then we just thaw it and reheat it as needed. Other times, I have made two 8×8 pans of it, baked one as normal (I use the same timing even for the smaller dish) and then covered the other pan in foil, placed it in a large freezer ziplock bag and froze it for later. In this case I have thawed it and then baked it according to the original baking directions. Both ways work well, so do whatever is easiest at the time! Based on the growing appetites of my boys, soon I won't have any to freeze!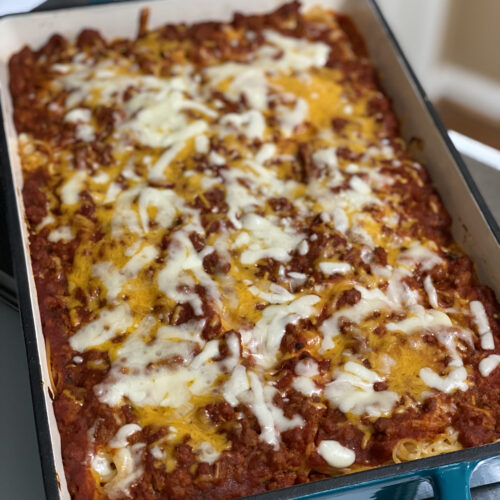 Baked Spaghetti
Ingredients
1 1/3

lb

ground turkey

2

26 oz

jars of your favorite marinara sauce

(If I'm using store bought I like the Ragu Traditional)

12

oz

dry spaghetti

8

oz

shredded cheddar cheese

8

oz

shredded mozzarella cheese

1

t.

garlic powder

1

t.

onion powder

1

t.

dried oregano

1

t.

dried basil

salt and pepper to taste
Instructions
Preheat oven to 350 degrees.

Cook spaghetti according to package directions.

Meanwhile, heat a little bit of olive oil in a large skillet. Add ground turkey and brown until cooked through. Add onion powder, garlic powder, dried basil, dried oregano, and salt and pepper. Stir and cook a minute or two more.

Add the two jars of pasta sauce. Stir to combine and let simmer for at least a few minutes. I usually let it simmer on low until the pasta is cooked and I am ready to assemble the casserole, which ends up being maybe 10 minutes.

In a 13×9 casserole dish start by spooning 1/3 of the meat and sauce mixture into the bottom of the pan until the entire bottom is coated in a thin layer of sauce. Then add 1/2 of the cooked and drained spaghetti. Then add 1/3 of each of the cheeses.

Repeat: Add 1/3 of the meat sauce mixture, the other half of the spaghetti, and 1/3 of each of the cheeses.

Add the last 1/3 of the meat sauce mixture to the top. (Reserve the last 1/3 of each of the cheeses for later).

Bake at 350 degrees for 20 minutes.

Remove from oven. Add the remaining 1/3 of each of the cheeses. Return to the oven and bake for an additional 10 minutes.
Notes
Make Ahead Options:  This is a great meal to make earlier in the day.  I often assemble it when I have time in the morning or early afternoon and then just set it in the fridge until I'm ready to bake it at dinner time.  I do take it out for about 20 minutes or so to allow it to warm up a bit before putting it in the oven.  
Helping Hands: This is a great meal for kids to help with if you can let the ingredients cool a little bit.  I usually ladle the sauce in, but often my kids help layer in the spaghetti and the cheese. 
What to serve with it:  We usually like this with a simple green salad. I have also served it with a steamed vegetable like broccoli.
*This is a great meal to bring to a friend in need as well!  I have made this for friends so many times!  It reheats well and feeds a crowd (or provides great leftovers!).  I usually send it with a few steamer bags of frozen veggies and some frozen garlic bread for them to make along with it.