Banana Peach Sourdough Muffins
Posted On August 28, 2022
I love baking sourdough bread and keeping my starter around. It makes so many delicious things! I'm also always looking for new ways to use the discard. While I love baking bread, I certainly don't do it every week, and I love finding other ways to use the discard after I feed my starter to keep it going. We love making pancakes, but I think this muffin recipe is going to become a regular one as well! I can't wait to experiment with other fruit combinations. I started with this one because we had just gone peach picking and we had LOTS of peaches. Peaches are so delicious, but you can only eat so many before they will start to get too soft, so I wanted to come up with some other ways to use them. That's how this recipe was born. Working with some other recipes I have for sourdough, banana bread, and other muffins, I came up with this, and it came out perfectly. We can't stop eating them. I hope you enjoy them as much as we do!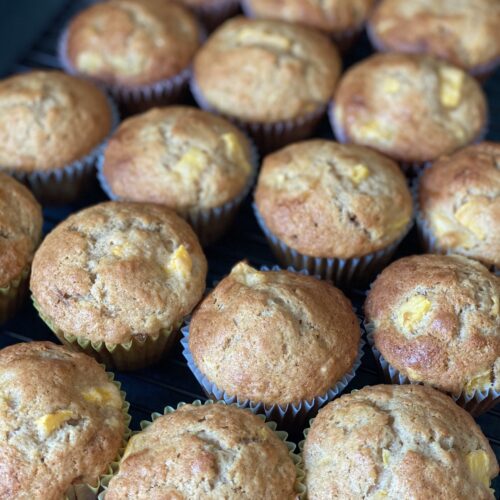 Banana Peach Sourdough Muffins
Ingredients
1/2

cup

mashed banana

(about 1 banana)

1

cup

ripe peaches, peeled and diced

(about 2 large peaches)

1/2

cup

sourdough starter

fed or discard

1/2

cup

vegetable oil or canola oil

1/2

cup

packed brown sugar

1/2

cup

white sugar

2

eggs

1

tsp.

vanilla extract

1 3/4

cup

all purpose flour

1

t.

baking soda

1

t.

baking powder

3/4

t.

salt

1/2

t.

ground cinnamon
Instructions
Preheat oven to 350 degrees. Place 18 cupcake papers in your muffin tins.

In a large bowl, whisk together the banana, sourdough starter, oil, brown sugar, white sugar, egg and vanilla until well combined.

In a second bowl, stir together the flour, baking soda, baking powder, salt, and cinnamon.

Add dry ingredients to wet ingredients and mix until just combined and there are no streaks of the flour mixture left. When it is almost completely combined, fold in the peaches. Be sure not to overman .

Pour batter into prepared muffin tins. Bake for 18 minutes or until cooked through and a toothpick comes out clean.

Cool for a few minutes in the tins, then remove and place on a wire rack to cool completely.
Notes
*I'd like to try these with other fruit combinations since they are so good, but have not experimented yet.  I'm assuming 1 1/2 cups banana would work well.  I'm not sure about other fruit, it would need to be fruit with enough moisture, like the very ripe peaches.  
*I think this would also work as a bread. Bake for 50-60 minutes in a 9×5 inch loaf pan or until cooked through and a toothpick comes out clean.  
Helping Hands: I love baking with kids!  I made this entire recipe with my oldest and we had such fun. He was able to use his kid safe knives to help with chopping the peaches and then was able to measure and mix and combine all the other ingredients.  He was so excited to try one when they were done and he just loved them!