Slow Cooker Apple Butter Chicken Thighs
Posted On October 2, 2022
I don't know about you, but I am thoroughly embracing fall at the moment! I'm excited for all the fall foods and flavors, enjoying the cool, crisp mornings and anticipating lots of fun family outings with the kids. We love going apple picking, visiting the pumpkin patch and all the other traditional fall events. We've started planning Halloween costumes and crafts and I love it all!
My meal plan has definitely been reflecting the change of season as well. Lots of warm and cozy cooking going on over here. This recipe is so simple and the flavors just scream fall to me! The simplicity of it makes it a quick and easy dinner, and yet it has such a complexity of flavors! For some reason I also feel like wild rice blends tend to complement fall dishes very well, so I love serving this over a bed of long grain and wild rice. There's something about the nutty, crunchy flavor and texture that just works perfectly.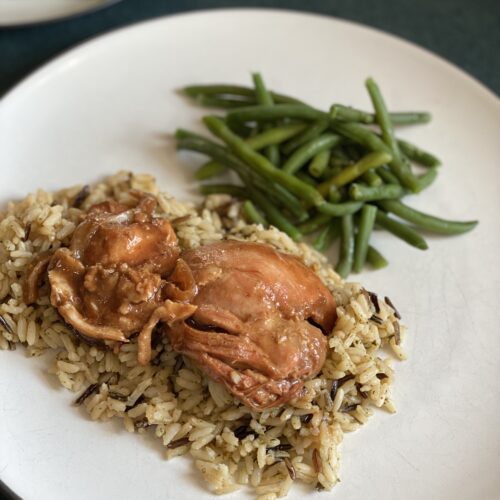 Slow Cooker Apple Butter Chicken Thighs
Ingredients
1.5-2

lbs

boneless, skinless chicken thighs

1

red onion

thinly sliced

1

cup

apple butter

1

T.

dijon mustard

1/2

T.

soy sauce

1/2

tsp.

sriracha

1/2

tsp.

paprika

salt and pepper to taste
Instructions
Add the chicken thighs and sliced red onion to the slow cooker.

In a small bowl or glass measuring cup mix together the apple butter, dijon mustard, soy sauce, sriracha, paprika and salt and pepper.

Pour sauce over top of chicken and onions.

Cook on low for 4 hours until chicken is cooked through.

Serve over wild rice with additional sauce and onions on top.
Notes
What to serve with it:  We love this over a wild rice blend with a simple steamed vegetable like green beans.