Oven Baked Fajitas
Posted On April 10, 2023
I love a good sheet pan style dinner, especially one that I can prep ahead of time. This is great one! We love Mexican style cooking, and the flavors of this recipe are spot on! I can prep a bunch of the elements ahead of time as well, which makes dinner time a breeze. I usually prep the spices and veggies early in the day, and then just assemble and bake at dinner time. I also often have frozen bell peppers around, and when I use those it makes this an even easier meal. You can customize this dinner in so many ways with lots of different toppings depending on how you like it. We have eaten it with guacamole, sour cream, hot sauce, cheese, salsa, etc. They are all delicious!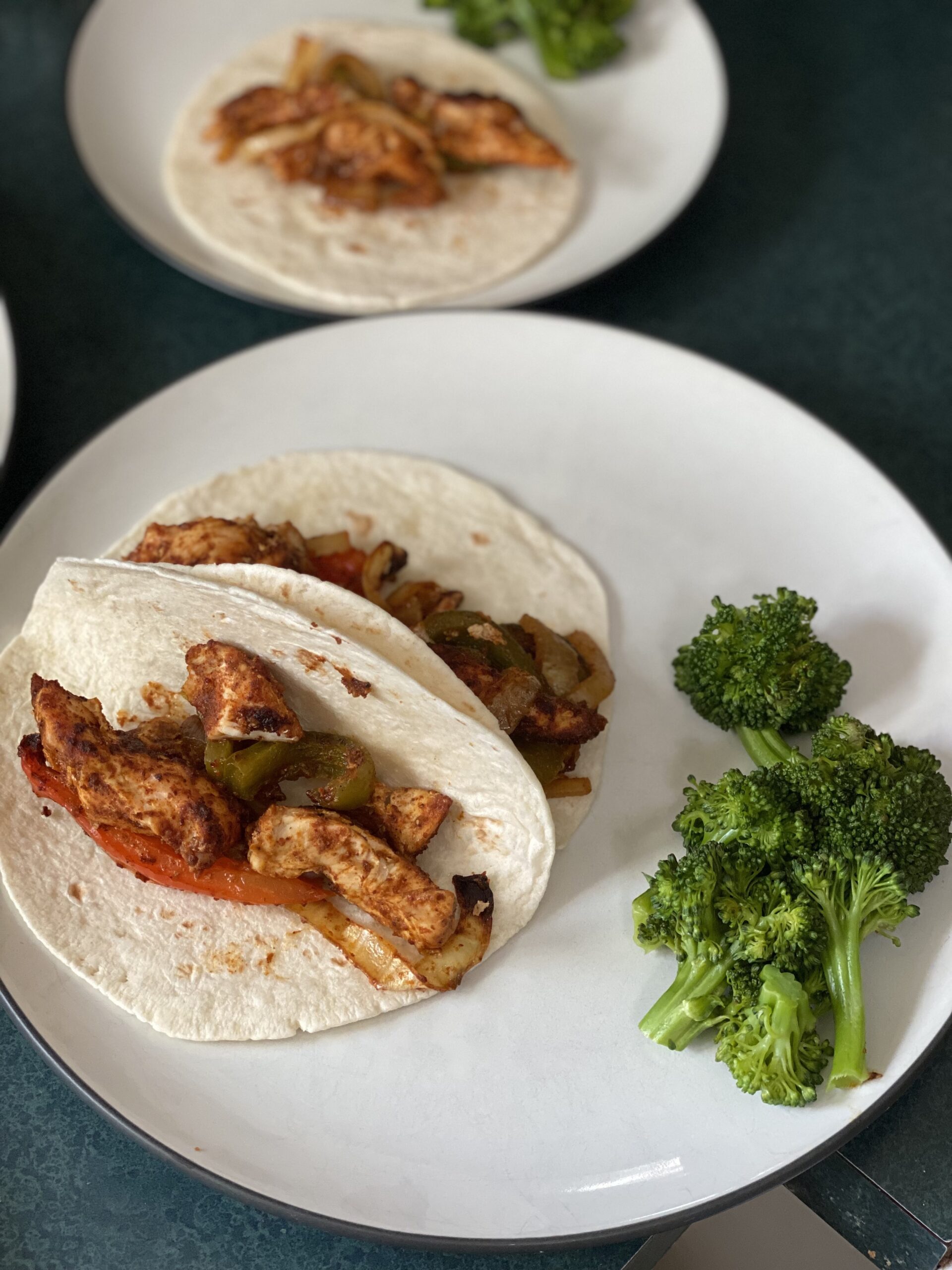 Oven Baked Fajitas
Ingredients
1

T.

chili powder

1/2

T.

paprika

1/2

tsp.

onion powder

1/2

tsp.

garlic powder

1/4

tsp

cumin

1/8

tsp.

cayenne pepper

1

tsp.

sugar

1/2

tsp.

salt

1/2

T.

cornstarch

1

yellow onion

sliced

1

medium bell pepper

(red or green or a combination), sliced

1

lb

chicken tenders

cut into thin strips

2

T.

olive oil
Instructions
Preheat oven to 400 degrees.

Mix all the spices in a small bowl and set aside.

Slice onion and pepper and place in a 13×9 casserole dish.

Slice chicken into strips and place in the dish with the peppers and onions.

Sprinkle seasoning blend over meat and veggies. Drizzle with olive oil and toss until everything is evenly coated.

Bake at 400 degrees for 35-40 minutes, stirring once.

Serve in tortillas with your favorite fajita toppings or over a bed of rice.
Notes
Make Ahead Options: I love to prep most of this meal ahead of time.  Early in the day I slice the peppers and onions and place them in a container in the fridge. I also mix up the spices and set them in a container on the counter.  While I don't usually slice the chicken, I'm not sure why. You certainly could. Then I just toss it all together when it comes time to bake it. Helping Hands: Depending on the age of your child there are several ways kids can help with this.  They can certainly help to stir the spices together.  They also could help slice the peppers with some kid safe knives if your child is old enough and able to do so safely. What to serve with it: We love to serve this in tortillas with our favorite toppings and  a simple vegetable on the side.  Sometimes we also include a side of rice and beans.  This would also be great over a bed of rice as well if you prefer it that way.