Stuffed Peppers
Posted On September 18, 2022
For some reason this recipe always seems to come to mind just as the weather starts to get cooler. I think it has something to do with the fact that the end of August and early September is often when I have lots of Cubanelle peppers available from my garden, but I'm also starting to have that desire for slightly warmer and cozier cooking. This recipe fits the bill perfectly! My mom always made many variations of stuffed peppers when I was growing up, and as I have gotten older this one has become my all time favorite and the one I almost always make. If you've been around my site for a little while you know that I rarely use processed ingredients. I always prefer to use a homemade version; it tastes better and is better for you. However, I have never been able to find a good substitute for the tomato bisque soup that I use in this recipe. I have tried many different things, and some are ok, but this is by far the best. Maybe someday I'll find something that works, but for now I will stick with the soup and the flavor that I have come to love.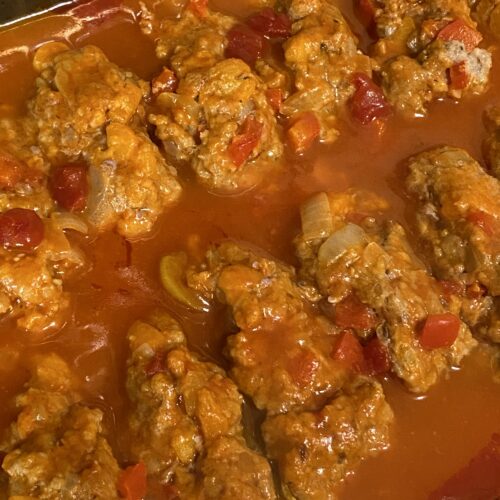 Stuffed Peppers
Ingredients
6-8

Cubanelle peppers

1 1/3

lb

ground turkey

3

cloves

garlic

minced

1

yellow onion

diced

2

medium carrots

peeled and diced

1

red bell pepper

diced

1/2

tsp.

dried oregano

1/2

tsp.

dried basil

2

T.

fresh parsley

1

T.

olive oil

1

cup

plain breadcrumbs

2

cans

Campbell's Tomato Bisque Soup (concentrate)
Instructions
Preheat oven to 350 degrees

Cut off top of peppers and then cut length wise, removing seeds and membranes. Set aside.

Saute onion, garlic, red bell pepper, and carrots in 1 T. of olive oil.  Let cool slightly.  Then add to ground turkey. Add oregano, basil, bread crumbs, egg, parsley, and salt and pepper to taste.

Stuff meat mixture into peppers, filling pepper and a little higher than the edges. Arrange in a single layer in a 13×9 pan.

Pour both cans of soup over top of peppers, also add about ¼ can of water and pour that over the peppers as well.

Cover and bake for 1 hour.
Notes
Make ahead options: These are a great make ahead meal.  You can make the filling and assemble the peppers and put them in the fridge until ready to bake. I usually pull them out about 30 minutes before I will put them in the oven so they (and the glass dish) are not too cold from the fridge. 
What to serve with it:  This recipe is so satisfying it doesn't need much.  And it has plenty of protein and vegetables to stand on its own. Many times we eat this on it's own and it's delicious.  Sometimes I serve it with a nice roll or crusty bread and that is delicious too. 
These freeze great too!  I usually bake them all and then freeze some already cooked.  Then just defrost and reheat when you need a quick dinner.