Cool Ranch Chicken Tacos (Slow Cooker)
Posted On February 24, 2022
This recipe might be my kids favorite meal of all time. At least it's certainly in the running. They have a few they gravitate to, and I'll be sure to share them all with you eventually! They devour these tacos every time (usually smothered in guacamole, their other obsession). Given my kids' love for tacos, I love how easy and healthy these are. Lean meat, no preservatives, it's perfect! And as long as I have chicken defrosted, all the other ingredients are things I always have on hand so I can make it almost any time. This recipe has rescued me several times when the day's schedule has changed and what I was planning to make just isn't going to happen. This chicken has so much flavor as well! I don't feel like I need to cover it in toppings. My husband usually just adds salsa, and I typically like guacamole. The kids have guacamole and cheese and love it that way! You can also serve it over rice and make more of a taco bowl if that is your preference.
I have made these tacos on both high and low in the slow cooker, depending on our schedule, and they both come out equally as good. I usually gravitate toward cooking on low in my slow cooker, but one time when I got really behind and didn't have four hours, I tried it on high for 2 and it came out just as good! Also, shredding the chicken with a hand mixer is a game changer! It is much faster than two forks, and the meat is finely shredded, it's perfect for tacos (and toddlers- it's easy to chew).
Are your family members taco lovers like mine? I have meal planning categories for each day of the week and one of ours is tacos/enchiladas/burritos bowls, etc. It has become my favorite day of the week most weeks. I think it's because, not only do I enjoy the food, but everyone does and eats happily! That is the best kind of dinner for sure!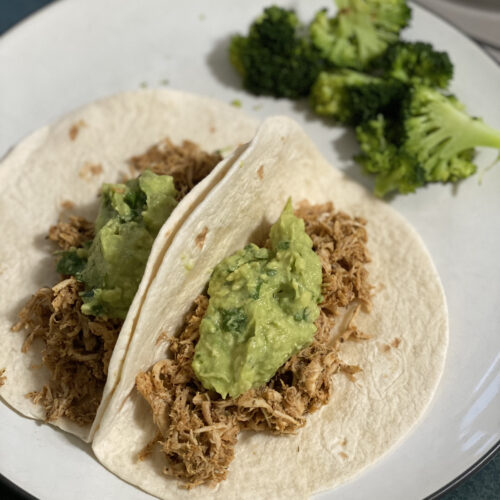 Cool Ranch Chicken Tacos (Slow Cooker)
Ingredients
1.5-2

lbs

boneless, skinless chicken breasts

3

T.

olive oil

2

T.

red wine vinegar

1

T.

chili powder

1 1/2

tsp.

black pepper

1

tsp.

salt

1/2

tsp.

ground cumin

1/2

tsp.

red pepper flakes

1/2

tsp.

paprika

1/2

tsp.

oregano

1 1/2

tsp.

garlic powder

1 1/2

tsp.

onion powder

1

tsp.

dried minced onion flakes

3/4

tsp.

dried dill weed

1

T.

fresh parsley

chopped
Instructions
In a small bowl, mix together all of the dried spices and set aside.

Place the chicken in your slow cooker.

Add olive oil and red wine vinegar.

Sprinkle with dried herb mix and add the fresh parsley.

Cook on low for four hours or on high for two hours, until cooked through.

Shred the chicken. (I like to do this directly in the slow cooker using my hand mixer. It's such a time saver!)

Serve in flour tortillas topped with your favorite taco toppings (salsa, shredded cheese, guacamole, etc)
Notes
Make ahead options: The nature of the slow cooker itself is a bit make ahead, as you can do it earlier in the day.  And I love the flexibility of doing it on low or high depending on what time of the day I actually get to assembling the meal.  They both come out equally as good!  I also sometimes measure out all the spices into a small bowl earlier in the day so that job is complete for whenever I am putting it all in my slow cooker.  
Helping Hands: There is not a ton for kids to do for this recipe, but when I've needed an activity for the day, I've had the kids help me mix and stir the spices up. Sometimes even just a small activity like that is helpful!  We also almost always eat our tacos with guacamole, and they LOVE helping to make that!
What to serve with it:  Since the tacos and all the toppings are pretty satisfying themselves, we usually just serve this with a simple steamed or roasted vegetable: asparagus, green beans, broccoli, etc.  You can also always have some chips and salsa or guacamole on the side as well.  We sometimes do, depending on how hungry everyone is.
*Shredding my chicken with a hand mixer has been revolutionary for me with recipes like this!  The shredding is so much finer, which we really like for tacos, and it is so much faster to do it that way!  I'm sure you could also do it in a stand mixer, I prefer the hand mixer because then I don't have another bowl to wash, I can do it right in the slow cooker.
*Dried parsley would also be fine in this recipe. I personally find that it doesn't have a lot of flavor and much prefer fresh. When we have a ton of parsley in our garden in the summer, I harvest a bunch of it, wash it, chop it up finely in the food processor and then freeze it.  Then I just break off a piece and throw it right into a recipe frozen.  It's delicious and so easy and you always have it on hand!