Sesame Chicken Tenders
Posted On March 21, 2023
I love this Asian inspired dish! While I don't often like to bread my chicken (it saves on the calories), I enjoy this one for a nice change, and the breading helps the chicken stay nice and tender and juicy. My kids also love it, probably because it reminds them of chicken fingers, but I'm ok with that! My husband and I enjoy the more complex flavors of this recipe compared to normal chicken fingers, they are baked, not fried, and the kids love them, which makes for a winning dinner. We love having this chicken with my vegetable fried rice for a complete and balanced meal.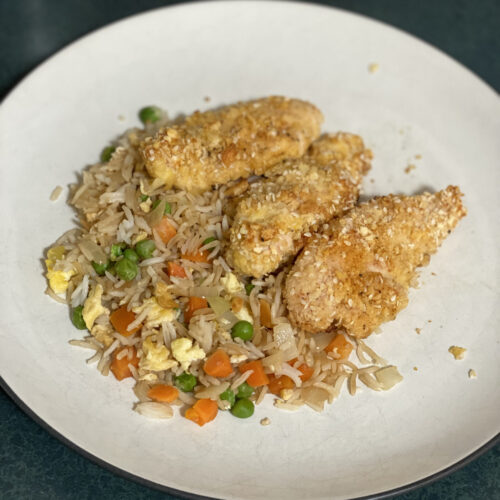 Sesame Chicken Tenders
Ingredients
1

lb

boneless, skinless chicken tenders

1

egg

lightly beaten

2

T.

sesame seeds

1

T

butter

cut into small pieces

1

tsp.

toasted sesame oil

1/4

tsp.

season all salt

20

Keebler Club Crackers

pulsed in a food processor or ground with a mortar and pestle until they are fine crumbs

black pepper

to taste
Instructions
Preheat oven to 350 degrees. Lightly butter a 13×9 casserole dish and set aside. 

Mix the cracker crumbs with the sesame seeds and set aside. 

Dip the chicken into the beaten egg and then into the cracker crumb mixture. Place in prepared casserole dish.

Sprinkle very lightly with pepper and Season All salt. Drizzle a few drops of sesame oil on each piece of chicken and also place one or two small pieces of butter on each piece of chicken.

Cover with foil and bake for 30 minutes, remove foil and bake for another 15 minutes until cooked through and chicken is lightly crisped. 
Notes
Helping Hands: While kids can't help with the raw meat part of this meal, my son does enjoy watching me make the cracker crumbs. I usually do this in the attachment for my immersion blender so I don't need to take out the large food processor. Then I let him add and mix in the sesame seeds. 
What to serve with it: I usually serve this with my homemade veggie fried rice.
Make ahead options: Most of this recipe I do right before I'm going to bake it, but if I find myself with some time earlier in the day I often make up the cracker crumb mix. It's a small step but its nice to have finished and I like having the food processor/immersion blender washed and put away as well.