Salmon and Noodles
Posted On February 5, 2022
I don't have a lot of recipes from my grandmother. However, the few that have been passed down to me over the years have become regulars in our family meal rotation. They are often relatively simple and easy, with basic ingredients, that taste delicious. That is a perfect combination in my book! This recipe has become one of those staple recipes for our family. Made from pantry ingredients and a few basic items you will almost always have in your fridge, this can be on the table almost any night of the week. It's make ahead friendly, meaning that I almost always make this dish during nap time, then all I have to do is throw it in the oven come dinner time. I usually take it out of the fridge when I preheat my oven so the dish isn't super cold going into the oven. This is also super kid-friendly when it comes to helping and eating. It's one that I almost always have little ones hands helping me with. They also always beg for me to make it!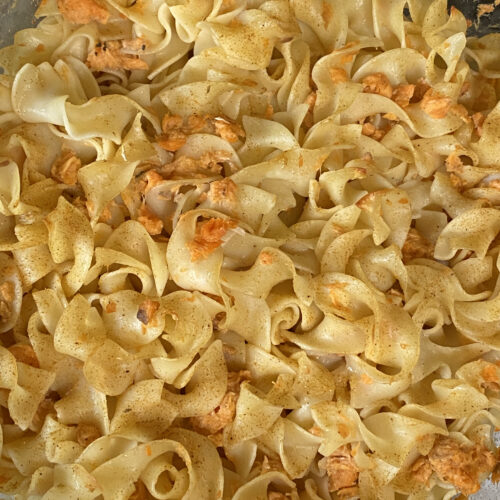 Salmon and Noodles
Ingredients
6

cups

dry egg noodles

(I use No Yolks brand, broad)

1

7.5 oz can

Red Salmon

Not drained (I like Rubenstein's)

1/4

cup

milk

1

T

butter

divided

1/2

tsp

Season All Salt, divided

(more or less to taste, I don't measure I just sprinkle as desired)
Instructions
Preheat oven to 325 degrees

Boil the egg noodles according to package directions and drain.

Meanwhile, lightly butter an 8×8 casserole dish.  

Add the undrained salmon and liquid to the casserole dish, removing skin and bone pieces.  Mash up the salmon with a fork or your hands until it's in small pieces.

Sprinkle the salmon with ¼  t. season all salt.

Add cooked noodles over top and stir until combined and the salmon is evenly dispersed throughout the pasta.

Drizzle ¼ c. of milk over the pasta. 

Cut the remainder of the 1 T. of butter into small squares (usually about 9) and scatter them over the top of the pasta.  Now sprinkle with the additional ¼ t. of season all salt.

Cover with foil and bake for 30 minutes at 325 degrees. Remove foil and bake for an additional 10 minutes.  
Notes
*Notes: Be sure to use red salmon.  When I have used canned pink salmon the flavor has been too mild.  Also feel free to adjust the Season All Salt to taste.  I usually don't measure but simple sprinkle generously over the salmon at the beginning and then again over the whole thing at the end. 
Helping Hands: This is a great recipe for little ones to help with!  I boil the noodles ahead and give them a little time to cool so they are not too hot.  Mashing up the salmon in the bottom of the dish is a great job for the kids.  My son also loves helping sprinkle seasoning, drizzle the milk and place the butter pats over the top.  This has become one of his favorite meals.
Make ahead options: I usually assemble this during afternoon nap time and then it's ready to go in the oven closer to dinner time.
What to serve with it:  We usually eat this with a simple side of steamed broccoli. My husband also likes to add Old Bay to his when he eats it.  I prefer it as it is.